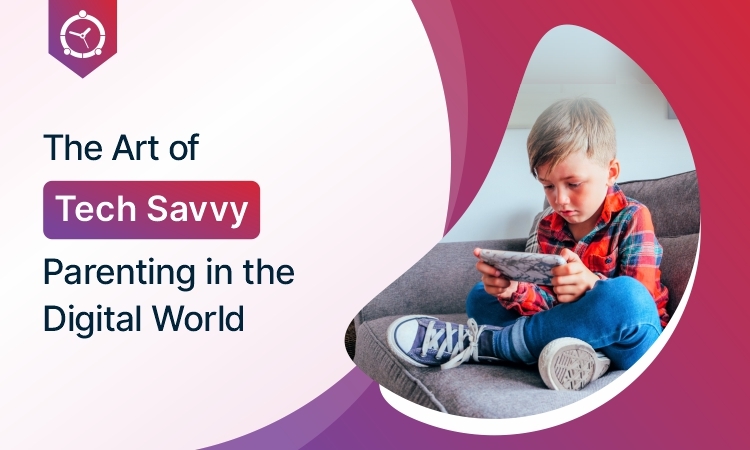 Protecting digital citizens, who are pros at using the latest tech, from unforeseen digital threats is quite demanding. However, the art of tech-savvy parenting is not that complicated and can be made easy with the help of apps for parental control. But why does it seem that parents need to be more tech-savvy nowadays?
Tech-Savvy Parenting is the Need of the Hour
Parenting is a lot different now than it used to be in the past. The overabundance of apps and interactive devices kids use has made it impossible to keep track of their digital lives. Moreover, the plethora of threats posed by the cyber world adds to the challenge of parenting carefree kids and teens. Therefore, parents need to befriend the technology used by their kids if they wish to keep up with them. Hence, learning to use apps for parental control is a step in the right direction.
5 Ways to Become Tech-Savvy Parents
Here are five tips for you to become a tech-savvy parent.
Take an Interest in Kids' Online Lives
Everyone is familiar with the famous saying. "Join them if you cannot defeat them." It perfectly encapsulates the gist of modern-day parenting. Since you cannot outsmart your kids by using technology as well as they do, you must do your best to join them. Take an interest in what they are doing and whether they should be doing it.
Keep Up to Date with the Latest Trends and Apps
The only way to stay inclusive and relevant in your kids' lives is by keeping up with the latest trends and apps. Know what your kids do online to track their digital footprint and ensure their digital safety by intervening where necessary.
Learn to Use Technology
Kids have it easy because they are born in the era of the technological boom. They are quick learners and learn to use new apps & tools in no time. Parents (too) can learn to use the same technology, apps, and devices by joining them. If they are making a TikTok or playing an online video game, you can ask them to join in and learn.
Explore Apps for Parental Control
From racism to cyberbullying to online grooming and the like, the cyber world is chock-full of threats. Kids may fall prey to hackers, download malware on devices, or get victimized by online predators, catfishers, identity thieves, etc. Parents cannot fight these threats on their own without any help. That is why they need to use apps for parental control, such as FamilyTime, that offer plenty of safety features.
Set Up Parental Controls to Safeguard Kids from Digital Threats
Say you have downloaded one of the apps for parental control, i.e., FamilyTime. What to do next? With parental apps, you get features like Internet Filter, Screen Time Limit, Location Tracking, and more. FamilyTime makes it easier for parents to set up everything quickly and monitor kids' digital lives effortlessly. Let's dive in and see how it can help you transform into a tech-savvy parent.
What Does FamilyTime Offer?
Here are a few essential safety features that help resolve modern-day parenting problems.

Screen Time Limit – Limiting kids' screen time has become one of the most daunting tasks for parents to achieve. With FamilyTime's Screen Time Limit feature in your corner, you can eliminate this issue with a mere push of a button.
Internet Filter & Schedule – Not only can parents restrict kids' access to inappropriate content, but they can also schedule their internet usage by revoking their internet access during study hours, bedtime, and other important events.
Location Tracking & Geofence – Parents no longer have to stay on the edge of their seats after sending their kids outside. You can keep track of their whereabouts and receive alerts for geofenced places as soon as they enter or leave.
YouTube & TikTok Monitoring – Monitoring kids' social media accounts are one of the biggest hurdles in keeping them safe. However, FamilyTime makes it easier for parents. You can now monitor and control what content your kids watch on YouTube or TikTok.
App Blocker – Kids often get addicted to online games or social media apps. Parents can now oversee what apps kids use and restrict access to indecent games or unsafe apps with FamilyTime's App Blocker.
FamilyTime is one of the most dynamic and robust apps for parental control because it caters to the security needs of kids and teens alike. It enables parents to monitor and manage kids' digital footprint seamlessly through their own devices without hovering over kids' shoulders like helicopter parents. So, are you ready to begin?