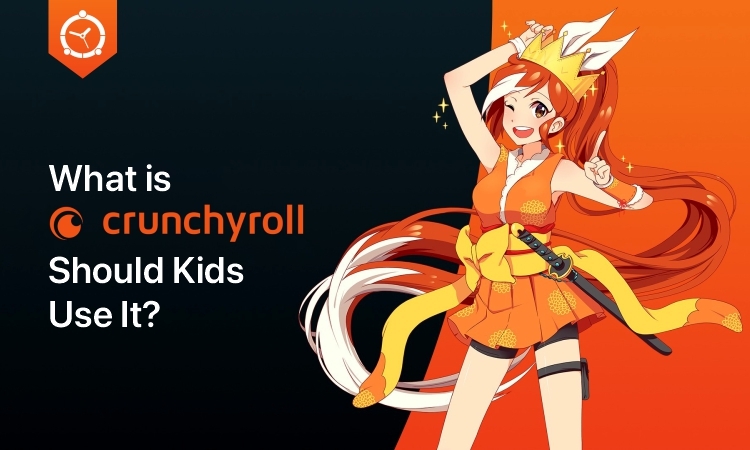 Keeping track of ever-increasing apps and platforms is undoubtedly cumbersome for parents. Every day we hear about trendy new apps that gain popularity among kids and teens. Crunchyroll is the latest buzz around town. Kids and teens lose track of time in this immersive and fun streaming platform. But what is it, and why is it so popular? 
What Is Crunchyroll?
Crunchyroll is similar to what Netflix is for adults. Introduced in 2006, it is a streaming platform that offers Asian anime (animation) movies and series. Though it began as a small and paid-profit video uploading platform, it grew into one of the largest legal anime distribution apps. Are you still wondering what makes it so popular? Let's find out.
Why Is It So Popular Among Kids?
In recent years, Crunchyroll has become one of the leading platforms for publishing, producing, distributing, and licensing groups in the animation industry. It caters to anime lovers only and offers games, webtoon series, movies, shows, and Manga series. It also gained popularity among kids for arranging and hosting engaging in-person events, such as Expo and Crunchyroll Animate Awards. While all that is excellent news for the platform, the million-dollar question remains. Is it safe for kids to use?
Is It Safe for Kids to Use?
Although the platform has a couple of safety barriers to minimize the risk of kids getting exposed to inappropriate content, most kids can easily bypass those precautions. Following are the few safety features offered by this platform.
Age Requirement – All users must be over the age of 16 to create an account and stream any content on this website.
Age Verification – Though it requires kids to be at least 16 to sign up, it does not ask for any age verification. That means anyone with a functional email and password can create an account and watch anything they wish.
Built-In Safety Controls – The account settings offer an option to remove access to adult or mature content. However, kids can easily switch the settings around and access inappropriate anime content which may include sexual or violent scenes.
So, can parents allow kids to use Crunchyroll? How can they ensure kids' digital safety if they cannot prevent kids from using it? The answer lies with parental control apps like FamilyTime.
Ensure Kids' Digital Safety with FamilyTime!
FamilyTime is a dynamic parental control app with solutions to nearly every problem modern-day parents face. Here are a few ways it can help ensure kids' safety, digital and otherwise. 

Limit Interaction with Screens
FamilyTime offers features such as Screen Time Limit, App Blocker, Internet Filter, and more to help parents prevent excessive use of screens. These features limit kids' overall screen consumption, restrict access to inappropriate apps, and prevent kids from indulging in indecent content/websites.  
Improve Time Management Skills
Parents can instill better time management skills and habits in their kids' lives with safety features like Screen Time Schedule, Time Bank, Family Pause, and Internet Schedule. Parents can allocate specific time for kids' activities, such as studying, eating, sleeping, family/social events, etc. Doing so helps bring discipline to their lives. Moreover, cutting off kids' internet access after bedtime prevents kids from staying up late to watch inappropriate content online.
Protect Against Digital and Real-World Dangers
When kids use unsafe apps and platforms, such as Crunchyroll, Clubhouse, Roblox, etc., they get exposed to dangers like sexting, cyberbullying, catfishing, online grooming, and the like. These threats have real-world and long-term effects on kids' mental and physical health. They may develop depression, anxiety, and even suicidal ideation. 
With that said, FamilyTime offers several efficient solutions to counter these problems. Its Call & Text Monitoring feature, combined with the TikTok and YouTube Monitoring features, provides valuable insights into kids' mental health. These features allow parents to take remedial actions in time to prevent something horrible from happening.
Know What Kids Watch Online
Modern-day kids are rather clever, especially in finding loopholes and staying under the radar. To counter this issue, FamilyTime offers a Web History feature that helps parents keep an eye on kids' digital footprint inconspicuously. Parents can easily access, manage, and control their kids' internet history from their parent devices.
Always Be There for Your Kids!
Are you worried your kids might get stalked by strangers/predators? Do your kids get bullied often? Do your kids have medical emergencies? Always be there for your kids and protect them with FamilyTime's SOS/Panic Button. When pressed by kids, this button would send an immediate notification with kids' current location, and parents can arrive in time to ensure their safety. Parents can also track their location with the help of Location Tracking and Geofencing features. FamilyTime makes a world of difference in protecting kids from dangerous apps like Crunchyroll. Explore its services and sign up to boost kids' security.