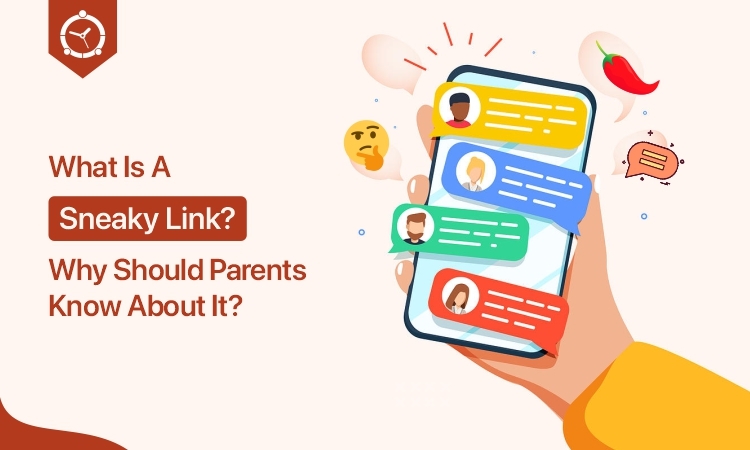 Parenting kids of the digital age is already a difficult task on its own. Enter the ever-changing social media trends, and it becomes impossible for parents to catch up to their kids. Social media platforms like TikTok churn out bizarre and unsavory trends every day! Take the Sneaky Link trend, for instance. Many parents have been scratching their heads to crack the slang terms their kids use. So, what does this term mean, and why should parents care about it? Let's find out.
What Is A Sneaky Link?
Many sources have defined the term "Sneaky Link" as having secret intimate relations with someone. This trend spread like wildfire on various social media platforms, especially TikTok. Now that we know what this trend means – I am sure no parent would allow their young kids and teens to indulge in such absurd trends.  
How Does It Relate to TikTok?
The Sneaky Link trend originated on TikTok and exploded all over the media. Youngsters turned it into a hashtag, which received nearly a billion views on the TikTok app. More teens and adults are using this hashtag to boast about their secret relationships.
All these things make you wonder what the world has come to. No parents wish their kids to engage in such activities so brashly. Do you want to protect your kids from indulging in such horrible trends too? Well then, you are not alone!
How Can Parents Prevent Kids from Indulging in This TikTok Trend?
You can stop your kids from following trends like the Sneaky Link in more ways than one. With pre-teen kids, you can use parental control apps and block access to such inappropriate content and apps altogether. 
On the other hand, handling teens might be a bit difficult because they become rebellious. So, keep your wits about it, and instead of just cutting off their access to such things, try talking to them and educating them about the grave consequences of indulging in such acts.
Educate Teens & Raise Awareness About Digital/Social Media Safety
Help them understand that engaging in such trends and acts can be unsafe. They may get hurt or bullied. Posting such things on the internet to gain popularity could ruin kids' futures too. It may ruin their reputation and hinder their ability to attend better colleges/schools.
Moreover, social media is a cruel place with no shortage of horrible people like bullies. If kids indulge in the Sneaky Link trend and post it confidently online, they may get targeted by sexual predators or fall victim to online grooming.
Get Familiar with Parental Controls
Though talking to them is essential, monitoring their activities is also vital. As ridiculous new trends keep emerging, parents must make it clear to their kids that monitoring their activities is in their best interest.
Parents need to make an educated effort and familiarize themselves with various kinds of parental controls that can help make their lives easier. Parenting kids of the digital age doesn't have to be this difficult. There are several ways that can help you accomplish this task, such as parental control apps like FamilyTime.
How Can FamilyTime Help?
FamilyTime offers a long list of competent features that can help parents effectively prevent their kids from indulging in trends like the Sneaky Link. For instance, it offers
App Blocker – to block unsuitable apps and games
Internet Filter – to ban inappropriate websites and content
Location Tracking – to let parents know of their kids' whereabouts at all times
Call & SMS Monitoring – to flag words and phrases in conversations about subjects like sexting, drugs, suicide, depression, and more.

FamilyTime is more than a typical parental control app. It helps parents protect their kids from the dangers of the online world and safeguards kids from the threats of the real world. So, sign up and keep your kids safe!