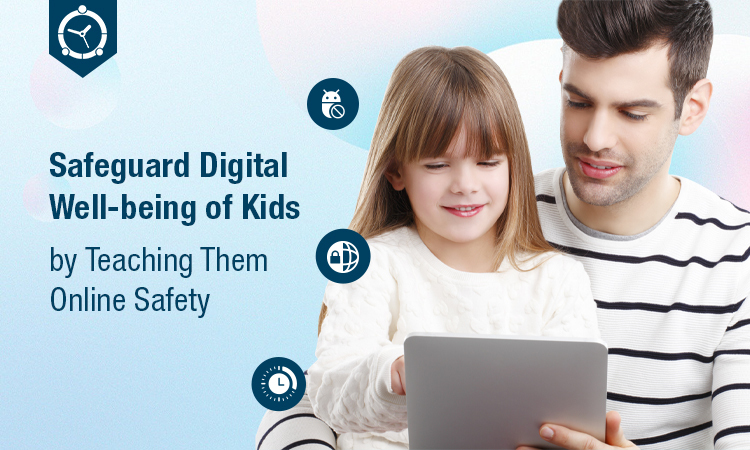 In today's faced-paced, technologically advanced life, even schools require kids to use computers, smartphones, and the internet for homework assignments. That raises concerns about kids' digital well-being and makes it necessary for parents to teach them online safety rules.
Some parents make educated efforts on these fronts by exploring parental control apps, such as FamilyTime. Others are entirely unaware of the risks associated with their kids' digital lives.
Let's take a bird's eye view of what is meant by digital well-being and how parents can ensure their kids' digital well-being.
What is Meant by Digital Well-being & Online Safety?
In simpler words, digital well-being describes the influence of digital services and technologies on people and how these privileges affect our physical, mental, and psychological health. On the other hand, online safety means the measures we take to protect ourselves from online threats. Are you confused about the dangers of online lives? Let's understand what it means.
Risks and Dangers Associated with Digital Lives
Online communities pose various threats to your kids' digital lives, such as cyberbullying, sexual predators, identity theft, racism, catfishing, online grooming, etc. Though these threats are digital, their far-reaching consequences leave a real-world impact on your kids' minds.
That is why it is vital for parents to raise awareness of digital well-being in kids and teach them how they can practice online safety.
How to Educate Kids About Online Safety?
Parents can instill the importance of online safety in their kids in several ways. It is better to begin by telling them why personal information must be kept private.
Social media platforms are all about sharing. Kids post their check-ins, photos of whatever they eat, morning rituals, etc., for the world to see. While it might seem normal to snap pictures of your routine activities and put them online, it is not always the best idea.
Personal information such as residential or school addresses, phone numbers, banking information, social security numbers, etc., must be kept private. Otherwise, it puts a target on kids' backs, and anyone with access to that information may harm in more ways than one.
Kids may become target practice for sexual predators, scammers, bullies, catfishers, etc. That is why it's necessary for parents to teach their kids the vitality of boundaries.
Choose your friends wisely. While social media platforms connect us with people worldwide, it is essential to value your digital well-being over the thrill of connecting with a stranger. Having a digital footprint doesn't mean you must share every minute detail of your life with everyone.
Parents must teach their kids how to establish boundaries and where to draw a line. Vet other people cautiously before adding them to your friends list. Doing so will help kids avoid online predators, catfishers, scammers, etc., who want to take advantage of their innocence.
The Devil is in the Details
Are you wondering how one can avoid online predators, identity thieves, bullies, catfishers, scammers, etc.? You might have heard the phrase – the devil is in the details. Most crooks use fake identities and personas to get close to kids. They often lack essential information on their profiles and choose to talk via messages.
Sexual predators, online groomers, catfishers, and scammers may ask for/send gifts and compliments to kids in an effort of coercion. Their ultimate target is to get some leverage on kids and use it to blackmail them.
However, bullies and racists like to wreak havoc in others' lives. They post comments and lies to drag your kids' reputations through the mud. The best way to deal with such people is by reporting them to the authorities and blocking them out of your kids' lives. Parental control apps, such as FamilyTime, can help you in this matter.
Parental Control Apps, Digital Well-being, and Online Safety
Parental control apps, like FamilyTime, are the perfect solution to safeguard the digital well-being of your kids and maintain their online safety. They allow parents to limit screen time, use internet filters, block applications, and more.

FamilyTime can help secure your kids' online lives by enabling you to monitor their online and offline activities. Parents can
allow/restrict access to social media apps or games.
set internet schedules and define when their kids get access to the internet.
block access to inappropriate content and websites.
limit their overall screen time.
monitor kids' calls & text messages to see who they talk to, and more.
FamilyTime goes above and beyond in protecting your kids. Check out what more it can do for you, or sign up if you want to give your kids the best security ever!