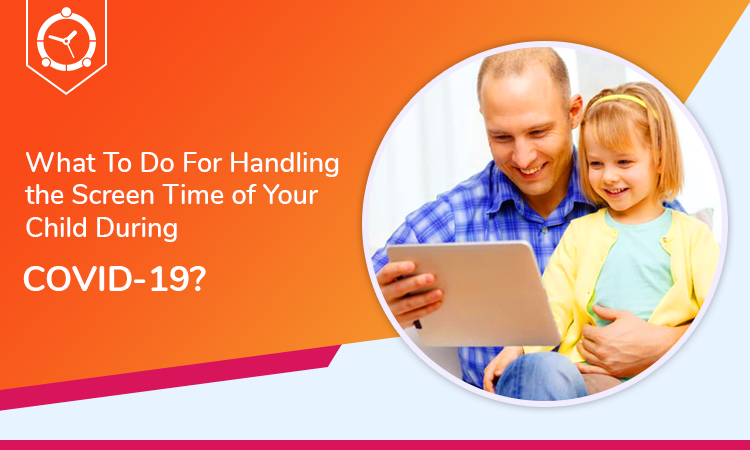 The time people spend in front of the screen of their digital devices like smartphones, tablets, laptops, and others is included in the screen time. As adults and children are staying at home, there is a huge possibility that screen time might rise.
According to an estimate, 3 billion people are in lockdown across the globe. Furthermore, 90% of the student population is not going to school. Due to this, a huge population is continuously using their digital devices as they are staying at home.
Almost 130 countries have restricted the movement of people for controlling the spread of COVID-19. Keeping this in mind, this is the best time to understand that the internet acts as a tool for children to play, learn, and socialize with their friends or family members.
But most of the parents are worried about the children who are using the devices most of the time. They are playing online games, using social media platforms, watching videos, and doing different stuff. These activities are increasing their screen time and will have a huge effect on their health. In this situation, adults and children are highly dependent on the screens of their devices to spend their time. This is the point where families and children have to think about the right balance regarding the screen time during the lockdown.
In the following blog, we are going to discuss the risks of increased screen time and things we can do to handle the situation:
Gaming and Screen Time During COVID-19
It is very much clear from the research that screen time provides us a temporary escape from real-life activities and social engagement. During the COVID-19 lockdown, people are hugely relying on games to spend their time and this has clearly made the screen time winner in the debate.
According to digital game distributors, Steam reported that there is an increase in the number of daily users in the past week. In the month of March, the number was 19 Million but in early April it climbed up to 23.5 million. Social simulation games like Animal Crossing series or Minecraft are more popular as these games let players build their own world alone or with a friend.
Risk Involved In This Matter
According to a recent study done by some researchers, the impact of screen time on the health and wellbeing of children is very small. They added that other factors like adverse childhood experiences, parental support, and family relationships have more impact on child mental health and wellbeing in comparison to the screen time.
According to UNICEF's report "Growing up in a connected world", a small group of children will experience adverse experiences when they are using digital technology. This is not directly related to the time they are going to spend online. So, instead of focusing on the experiences, the attention should be on the fact that what type of content children see online.
Screen time is also blamed for the physical inactivity of children. Note that physical inactivity is also the leading factor in global mortality and also responsible for childhood obesity. There is an argument that by limiting time children spend on their screens will increase the physical inactivity.
Now, coming to the point that how we can create a balance for the kids. How can we help kids to achieve the goal of reducing the screen time during this pandemic and once life is back on normal routine?
Things That Needs to Be Done
Below are the important things that need to be done for controlling the screen time of children:
Proper Check of Parents
As kids have internet-enabled devices, they are able to access anything they want. So, this is the duty of parents to actively engage with their kids. Ensure that their kids are not playing the games or watching content that is for the adult audience. One of the best things that parents can do to keep their children safe is by playing video games with them to keep a check on things. This will be fun indeed with safety!
Ensure Proper Physical Activity
We all can understand that the children will not be able to do the right amount of physical activity during the lockdown. They will be using their devices for socializing and playing games. But even the outdoor movement is restricted. There is a way through which your child can do physical activity. According to a recommendation by WHO, active video games and online exercise classes are one of the best ways to stay fit at home. This a good solution for all the family members to stay active while staying at home and even when life is back to a normal routine.
Connection with Friends is Essential
As children are not allowed to go out and play with their friends, they are no option left other than using their mobile devices. But things can be improved by allowing your kid to interact with their friends on social media platforms or let them play games online. This should be done for a limited time in a day for reducing the screen time. With this child don't have to worry about staying in touch with their friends.
Over To You
Now, you are aware of the risks of increased screen time and how you can handle the problem. As a parent, if you want to control or reduce the screen time of your child, then FamilyTime can be very useful for you. The "Limit Screen Time" feature in the app will allow the parents to set the date and time during which their child can use the apps on their devices. Once the time is over, the apps will be locked and your child will not be able to use them. In this way, the control will be in the parent's hand. Parents can also set the custom rules according to their own choice.
The app also offers other exciting features like app blocking, internet scheduling, location history, location tracking, SOS/Panic button, text message monitoring, and much more. Get the app today to explore more about the features.