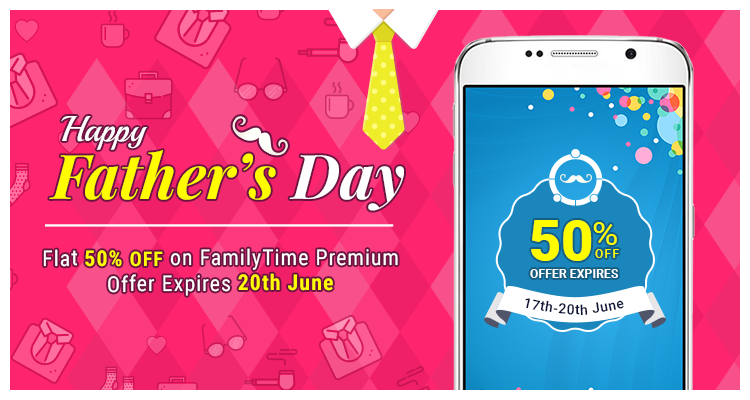 All fathers deserve a special treat and that is why we have a great offer to pay tribute to all the caring fathers out there. Now get the incredible and unlimited features of FamilyTime Premium at half the price!
Let's Not Forget Dads
While mothers are the epitome of care, fathers excel at protecting their kids from any harm. They provide for them and do everything in their power to give the best to their kids! Plus you have to admit it they are more fun in some things than moms!
Want to play ball? Moms would say that you will break something while Dads will not only play with you but also cover for you if something does go wrong! Well, that's who dads are! They will spend hours making that oh-so-difficult sand castle on the beach with you and wait for you while you are in for soccer practice without uttering a word. They work hard to make sure their children get everything they want and ensure the finest future for them. They are the toughest mountains against any troubles to their kids and the softest shoulder to lean on in a time of distress.
Hit the Home Run
Dads are no less than moms but they usually get less limelight and that is why to make them feel extraordinary we are here with the best offer! All the awesome dads out there, we know you are protective and to make sure you don't worry FamilyTime allows you to keep a check on your kid's activities, safeguard them from harmful habits and spend the quality time with you which you totally deserve! Not only that but at a flat 50% off! That's a scorer, right?
Hurry up before the ball gets caught!
Complete the full circle before time runs out! You can get all the exquisite features of FamilyTime Premium at 50% off from 17th to 20th June. Wait no more and click here to grab this awesome offer.
Have a marvelous Father's Day!