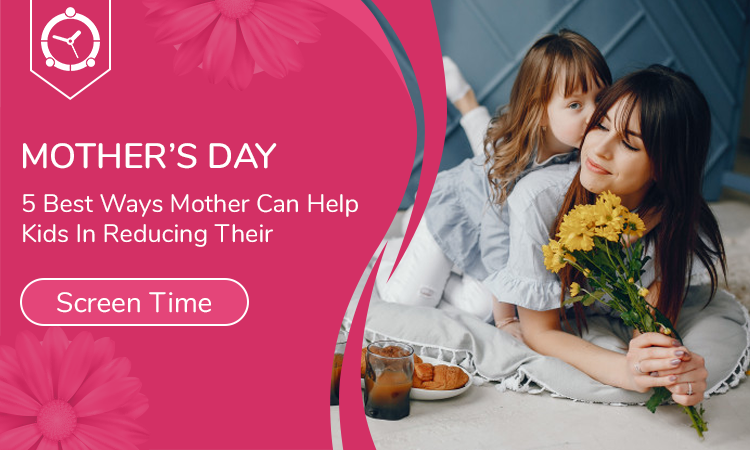 All mothers play a significant role in managing the house. Every mother is the queen of the house and this puts a huge responsibility on them. One of the important things from the long list of responsibility is the care and training of the children in the house.
Children spend most of their time with their mothers. As children are growing in this digital world, mothers greatest concern nowadays is the screen time of their child. They are always looking for a way or search for a solution to reduce the screen time of their children.
As a mother, they pay a lot of attention to their health, and try to limit their screen time to save them from various health effects. It is not just one mother who is concerned but it is the situation all over the globe. Organizations like the World Health Organization and UNICEF also emphasize on reducing the screen time of children.
As Mother's Day is approaching, so we decided to help out mother all around the world with the useful tips that will help them to limit the screen time of their child:
Encourage Them for Physical Activities
Nowadays, most of the children are not participating in physical activity because they love to spend time on their digital devices. This is the point where mothers need to intervene and encourage them to do physical activity instead of letting them sit on the couch and use their devices.
According to the World Health Organization, children should be physically active several times a day in different ways with the help of interactive floor-based play. The minimum time should be 30 minutes. They should not sit in one place for more than one hour.
Mothers can think of different ways to keep their children active in the house. For instance, if your child loves to solve the puzzle, spread all the pieces on a floor. This will allow your child to go back and forth to find each piece. In this way, they will do some physical activity and this will also challenge their brain to remember which price they have to find.
Teach Them To Play Alone
Mothers are busy for the entire day. They have to complete different household tasks like cooking, cleaning, taking care of a child, and much more. It is not easy for the mother to play with their kids all the time.
To handle this situation, the mother should encourage their children to play alone. At the start, they should sit with the child and engage them in activities while staying in the same room. The child will start to play and the mother can do their work. Helping your children to play alone will make your kid more confident and they will not ask you again to play with them.
Help Them To Get Started
As discussed above, the mother wants their kids to play alone in the house. For this, children need help in the start. With a little assistance, you can enable your child to do the remaining work on their own. Consider the following situations:
If your child loves to draw, then start drawing or do coloring with your child. Once you find that your child is doing the work, you can silently move toward the kitchen for completing your task. You can also tell him to complete the drawing and coloring while you will complete some other tasks.
If your child loves to play with clay, then tell them how to make different things. Once they will start making things, then you can do your other work.
Set Up A Schedule For your Child
Proper planning is important to make things right. If mothers want to keep their children away from devices like smartphones, tablets, iPad, and much more, then a proper routine is important. Mothers should set a certain time for their kids to use their devices.
Tell them they are allowed to use digital devices in a particular time period. They should not use the devices when eating meals, doing a study, or before going to sleep. The schedule should also include a time when they have to go out for playing so that they can do some physical activity. Once you have set up the schedule, your child might complain about limited time. After one week, they will not question you about the screen limit because it will be part of their routine.
Develop an Environment
To achieve certain things, a proper environment is necessary. The same goes for the children. If mothers want their kids to stay active, then they have to come up with different ideas to tackle the situation.
Mothers should let their kids play with the toys or do the indoor activities they like. Their interest in the activities is very important to keep them engaged. In this way, they will not be able to look for other ways of entertainment. Furthermore, they will ask you to give them more time to spend on their devices. If your child loves to go out and play out, let him go. Mothers can also do some online research to find out some ways in which they can keep their children physically active.
Try Them Out!
Hopefully, these five ways will help mothers to reduce their screen time. They should encourage children to do more physical activity to stay fit as well. As a mother, if you are in search of the best app that helps you in limiting the screen time of your child, download the FamilyTime app now!
The app is designed to give full control to parents so that they can monitor their child's activities on their device. The limit screen time feature will lock the apps after the time is over. You can even set up custom rules according to your own choice. The app also provides other features like internet filtering, app blocking, SOS/Panic Button, location history, virtually geo-fence places, check-in, and check-out notification, and much more.