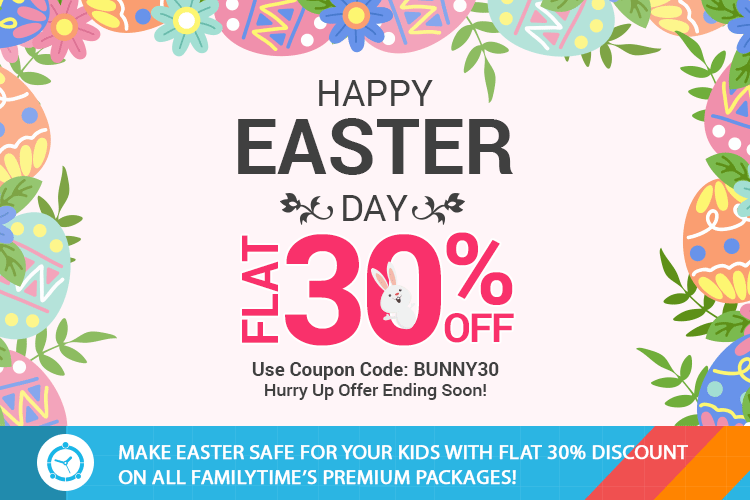 Now is almost time for Holy Week, and for kids, it is compulsory to look for the eggs that the Easter rabbit leaves them. Certainly, it is a pleasant and happy experience to see our children running around the house or the garden looking excited. But what if they ask to travel down the street with their friend? Won't you allow your kid to enjoy this precious event to the fullest? You should; and for that, you need to add an extra layer of care to your parenting with the use of the FamilyTime parental app! To treat you well this Easter, FamilyTime offers flat 30% discount on all its premium packages.
Here is a glimpse of some of FamilyTime's incredible features:
REAL-TIME LOCATION TRACKING
Don't ground your kids at home because of your insecurities rather set them free and keep an eye on their changing locations through your mobile in real time.
GEO-FENCING
Create a virtual fence around places your kids plan to visit for their egg hunting. This will help you keep notified when they reach the place or leave it.
SOS Alerts
Be with them if they feel endangered, through FamilyTime's SOS alerts, kids can send their parents an instant alert with complete location details in a single tap.
TeenSafe Speed Alerts
Brush off your worries if your teen is driving alone. With TeenSafe Speed Alerts, you can know when they over speed the vehicle or cross the speed limit defined by you.
And there is a lot more in FamilyTime for parents such as:
Content Filters
Contacts Monitoring
SMS Monitoring
Call Log Monitoring
Screen Time Lock
App Blocker
Daily App Usage Limit
So, this Easter, get your hands on the amazing deal and upgrade to FamilyTime Premium at 30% off. Hurry up, the offer ends soon.  Enter the code, BUNNY30 as you checkout. Happy Easter!