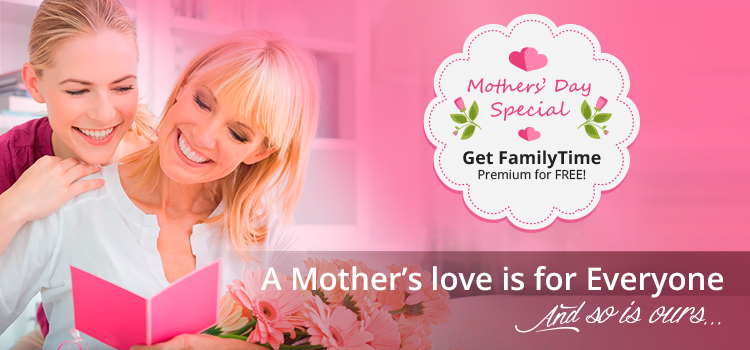 May brings us all a day to express our unending love for our mothers all around the world. We want to pay a tribute, fuss over them and buy them the best gifts we can manage. We, at FamilyTime, value respect mothers and as a tribute to all the mothers out there, we're offering the best we have: FamilyTime Premium- for absolutely free!
FamilyTime Premium for Free!
We understand that mothers can't help but worry about their children's wellbeing and want to protect them from any harm. And that's why we want to make it little easier for moms to keep a safety check on their young ones. Not just the ordinary; we are offering an exciting opportunity for all the parents to try our FamilyTime Premium service for free for 15 days!
FamilyTime Premium brings you all the great features of the FamilyTime free package plus all the awesomeness of:
Premium features
Extended reporting
Premium customer support
Unlimited Geo-fencing Places support
Unlimited Location History lookups
Family matters…
Spending family time is extremely important but for all the times when you're not with your children, FamilyTime lets you make sure that your children are all safe and it connects you with them in real time. So avail this opportunity and grab our very best FamilyTime Premium package. It's time to lay all parental woes and worries to rest. After all, FamilyTime takes care of your family as good as a mother does!
Register, Connect, and Relax!
To get FamilyTime Premium for free, simply register an account on our website and get started instantly! This offer is valid throughout the month of May and for all parents who want to secure their children and manage their digital lifestyle. So, if you're a working mom, a stay-at-home mother or even a father, sign up with FamilyTime this May and experience the superpowers of FamilyTime Premium for full 15 days! Because a mother's love is for everyone and so is ours! Happy Mothers' Day!