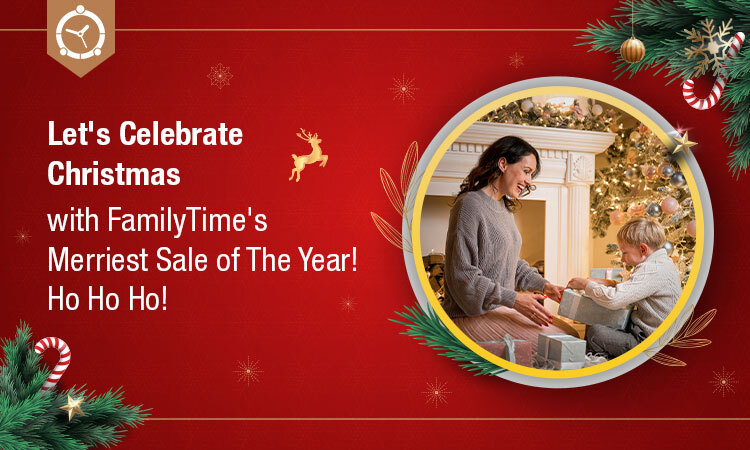 Christmas is just around the corner, and we have something that will make yours safer and a lot more fun. Yep! Welcome to FamilyTime's Christmas Sale, the merriest sale of the year. Get a Flat 35% off on myfamily3. Give your kids the warmest gift of protection from digital dangers without splurging money on expensive options. 
Envelop Kids in the Coziest Blanket of Safety That is FamilyTime!
So, what do you get with this offer? Let's take a look.
Help your kids spend a screen-free yet fun-filled Christmas with FamilyTime's Screen Time Limit feature. It will help you balance kids' screen time and other activities. You can specify a time limit for individual apps so that they spend screen time productively.
Surfing the internet is as easy as 1, 2, 3 for kids of the digital age. However, parents need to be on their toes while kids hop on the bandwagon we call the virtual world. There is no telling what kids may get exposed to in the underbelly of the internet. FamilyTime's Internet Filter can help you provide a safer online world to your kids by limiting their access to adult/explicit websites and content.
YouTube & TikTok Monitoring
Kids tend to spend a lot of time on social media, especially during the holidays. Keeping an eye on kids' digital activities seems like a herculean task while you need to run errands, buy presents, and prepare for the Christmas feast. So, let FamilyTime help. Its YouTube and TikTok monitoring features monitor the type of content kids watch on these platforms for you.
Location Tracking & Geofence
Celebrate this Christmas to the fullest! No more running around to look for the kids if they are out of your sight. Simply locate them using FamilyTime's location tracking feature any time you want. With its geofence, parents can mark places and get notified when kids enter and leave those locations. Let kids have fun and peace of mind, just like killing two birds with one stone.
Christmas is one of the busiest times of the year. Parents have a lot to do. Asking teen drivers to run some errands makes every parent anxious since they are a novice in the field. The thought of them getting into an accident will send chills down any parent's spine. Fret not! FamilyTime can help keep teen drivers safe on the road for you. Just assign a speed limit that teens must follow on the road, and it will notify you if they exceed that speed. 

Don't Miss this Golden Opportunity!
FamilyTime has much more to offer than the features listed above since we care about (both) parents and kids. Christmas is all about giving, and in the spirit of "The more, the merrier!", FamilyTime has brought you the merriest sale of the year! We understand that you might be running low on the budget after buying presents for everyone. So, snatch this golden opportunity before time runs out!