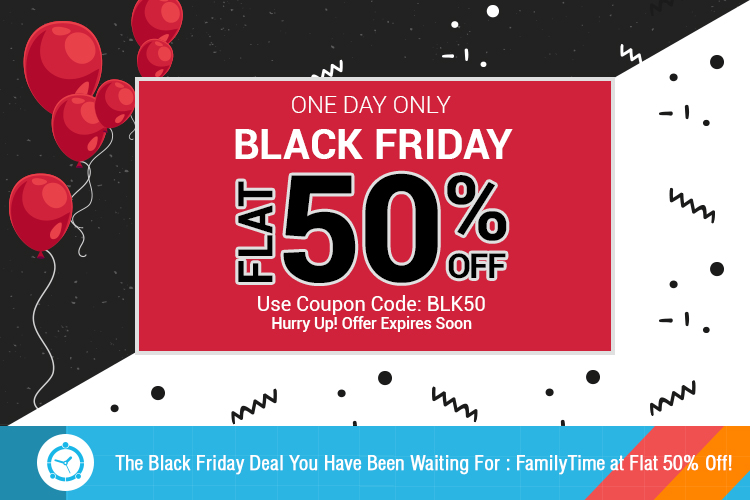 Black Friday is here –  brace yourself for long queues, wait and well, stampedes! But some deals don't involve any of these – FamilyTime brings you the deal you have been waiting for – Flat 50% off on Premium parental controls and that too, without any wait, long queues and crowded stores!
One Click and It's Yours!
FamilyTime parental controls are all about making parenting easy and fun for you while giving you the power to keep a safety check on your pre-teens and teens. Everything is just a tap away – just download the FamilyTime Parental Controls and Screen Time App or FamilyTime for Kids app from Google Play and that's all – the power of parental controls is now in your hand!
What's the Deal?
We are offering you our Premium parental controls at a smashing 50% off. This way you get to have all the awesomeness of our most powerful parental controls package at a half price!
Some of the most popular parental controls include:
These features are sure to make it all so simple for you. You can make your kids and teens go to sleep early and not use social media all night! The Daily App Limits let you fix a daily limit, and all the apps will be blocked once the limit is consumed. And You can even keep tabs on their whereabouts and know instantly as they reach or leave a certain place.
Make it easier for yourself to manage kids and give them a safe tech environment with FamilyTime Premium parental controls. And hey, this is a one-day offer so hit the button below immediately and claim your discount!