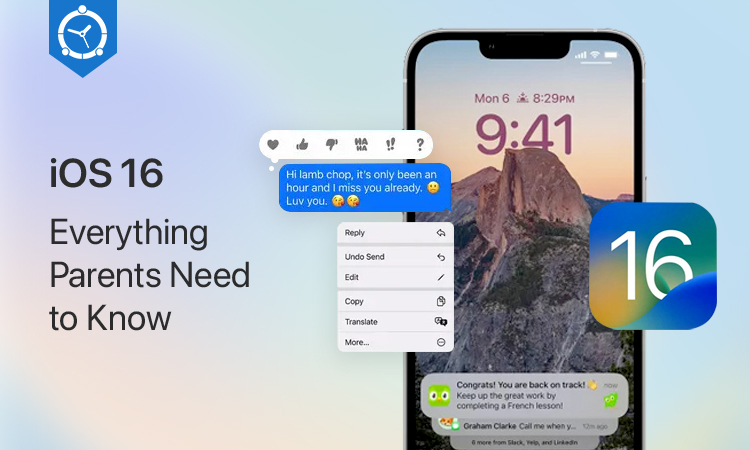 Once again, Apple has blown everyone out of the water by announcing its latest jaw-dropping updates. Indeed, iPhone updates bring along fun opportunities, but they also pose safety challenges for kids and parents. Unsurprisingly, countless parents use iPhone parental control apps to ensure their kids' safety while enjoying iPhone's latest bells and whistles.
What Is New with iOS 16 and Why Are Parents Concerned?
Though iPhone lovers are ecstatic to explore the new and improved features worldwide, parents might find some of these updates a tad overwhelming. Here are a few essential elements from the latest iPhone updates all parents must know about so they can safeguard their kids better, even if it means they must use iPhone parental control apps.
Editing and Un-sending Text Messages
Like the popular social media apps Snapchat and Instagram, Apple now allows users to edit (within twenty minutes) and unsend (within two minutes) text messages sent from its iMessage app. This feature from the iOS 16 update is now rapidly gaining popularity among the young generation of iPhone users, such as teens and tweens.
However, it only works on iPhone 8 onwards (on phones that can update to iOS 16). It does not work on older phones or Android ones. That means kids may unsend messages on their end, but their texts will not get deleted if sent to older iPhones. With all that in mind, parents are concerned that their kids might indulge in unsavory activities, like sexting.
The Ability to Lock the Hidden & Recently Deleted Photos
The photos placed in the Hidden and Recently Deleted photos do not appear in your photo library. The Recently Deleted photos stay on your devices for thirty days before getting wiped off of your phone entirely.
However, with iOS 16 both these albums will be locked by default. That means only people with a passcode or authentication would be able to gain access to these albums. Parents across the globe are concerned kids might use this feature to store inappropriate images and content on their devices.
Using SharePlay in Text Messages
SharePlay is an exclusive iOS feature allowing users to stream video/music in sync with other iOS users. Apple released this feature last year, and iOS users could only use it while FaceTiming others. However, the latest update allows iPhone users to take advantage of this feature while texting people using the iMessage app.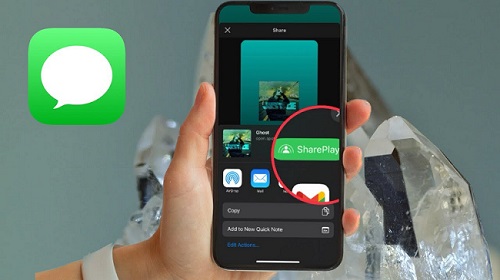 That means users can text an invite to other people so that they can watch a movie/TV show/video or listen to music together while chatting simultaneously. This particular feature raises red flags for parents because their kids can still get screen time through their friends even if they restrict their screen time on their end by blocking Netflix, YouTube, and other similar streaming apps.
iOS users can now send an invitation link and collaborate with anyone on a note in the Notes application. Though it seems like a great idea and is similar to Google Docs (allowing others to work on a document simultaneously), kids may use it to chat with friends secretly or have flings. Parents may think they can rest easy after blocking social media apps and messaging after bedtime, but kids may use this loophole to sext/text with others.
iOS 16 brings along many other cool updates and improved features. However, the ones discussed above are particularly concerning. Many parents are left scratching their heads, looking for solutions to these new challenges. 
How to Ensure Kids' Safety 
The most effective course of action to resolve this matter is to ensure responsible phone usage and employ iPhone parental control apps. Let's begin by how parents can ensure that kids use the iOS 16 updates responsibly.
Ensure Responsible Phone Usage
Parents can ensure responsible iPhone usage in the house by instilling healthy screen time habits in kids and modeling better practices. Kids follow in their parent's footsteps, especially from a young age. Parents can use it to their advantage and create a screen-free zone or a charging station in the house where everyone can put their devices at bedtime instead of carrying cell phones to their bedrooms.  
Employ iPhone Parental Control Apps 
Another effective method is using iPhone parental control apps, such as FamilyTime. Parents can educate kids on why indulging in obscure activities such as sexting puts them at risk. However, having a couple of talks is not enough to deter them. 

Therefore, parents need a foolproof plan, like using FamilyTime's Call & Text Message Monitoring feature. It screens their conversations and flags anything related to topics like sexting, bullying, depression, suicidal ideation, etc. It notifies parents upon finding related material, and they can intervene as needed. Having iPhone parental control apps, like FamilyTime, in your corner can help safeguard your kids in more ways than one.