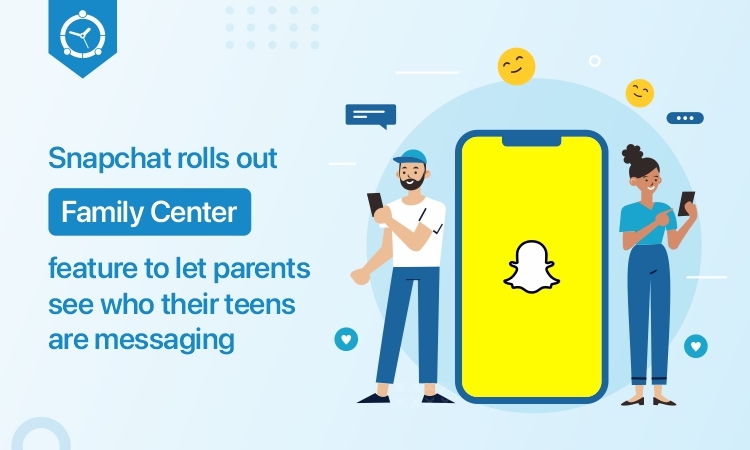 Countless people use social media platforms to stay up-to-date on the latest buzz and trends. Snapchat is one of the most popular social media apps loved by teens and adults. For years, this app has resisted the idea of parents' Snapchat monitoring and snooping around their teens' accounts, citing privacy issues. However, the company finally decided to roll out the 'Family Center' feature. It means parents will be able to see who their kids are messaging in the app. What does this feature entail, and why the sudden change of stance? Let's find out.
What's The 'Family Center' Feature All About?
The current generation of parents and kids have a completely different relationship compared to how it was in the past. Parents used to know their kids' friends and where they typically hung out. Now, 'privacy' issues make it difficult for parents to keep their kids away from trouble.
Snapchat stated in a recent press release that "Family Center is designed to reflect the way parents engage with their teens in the real world, where parents usually know who their teens are friends with and when they are hanging out — but don't eavesdrop on their private conversations."
How Does It Work?
According to the statements given in the press release, the all-new Snapchat feature requires the consent of kids to allow parents to monitor who they message. Once kids consent to it, parents will be allowed to see the list of their friends and report anything suspicious. However, it would not notify parents of any other Snapchat accounts of their kids (if they have any).
Why is 'Family Center' Making A Splash?
For several years, teens had been using Snapchat to buy fentanyl-laced drugs under their parents' noses, and nobody knew. Things took a drastic turn once teens began dying due to an overdose of the same drugs they had purchased via this app. Pressure on Snapchat began surmounting as parents continued to protest against the app's refusal to allow parental control apps to monitor teens' accounts. 
Parents have been consistently asking the company to allow parents to receive alerts on in-chat potentially dangerous content and prevent such tragedies from happening again. Finally, Snapchat answered in the form of the Family Center feature. But, the question remains. How effective is this feature in protecting teens?
Snapchat and Sammy's Law
A father named Sam Chapman has been actively campaigning and working with the Organization for Social Media Safety to create a bill called "Sammy's Law," which would force many social media companies, such as Snapchat, to work with parental monitoring apps. 
How Effective is Family Center in Protecting Teens?
Sam Chapman disparaged Snapchat's announcement of this feature in an email and stated that it was simply "a PR beard for what's actually happening, which is kids are dying." He further objected that this feature would not prevent teens from switching between accounts to avoid getting monitored and bypassing adults.
Though Congresswoman Debbie Wasserman Schultz labeled Family Center "a step forward" in a statement, she questioned its efficacy by saying that she believed kids were still at risk.
Marc Berkman, the CEO of the Organization for Social Media Safety, also raised questions about the utility of Snapchat's latest feature in an email. In his email, he stated, "A parent seeing new friends added to Snapchat regularly will have to trust the child as to who is being added or undertake some heroic verification processes. We are fairly confident that most teens are not going to be truthful with their parents about the drug dealer they just added to their account."
On the other end of the spectrum, the Snapchat team stated in a blog that the Family Center feature is designed to "empower parents and teens in a way that still protects a teenager's autonomy and privacy." Nonetheless, the mystery of whether Snapchat will cave into parental control apps (such as FamilyTime) or not, remains unsolved. 
Till then, parents can continue to rely on parental monitoring apps, like FamilyTime, to limit their kids' interaction with social media apps like Snapchat. FamilyTime offers features such as Screen Time Limit, App Blocker, Internet Filter & Schedule, etc., that can help parents restrict kids' addiction to screens and prevent the negative impact of social media apps on their mental and physical well-being.