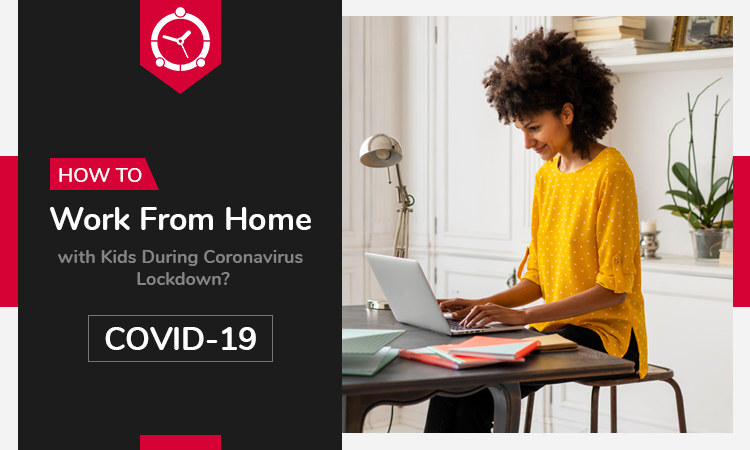 The fear of coronavirus is forcing people to stay home. All the governments of the world have requested their citizens to stay at home for their safety. This is the only way for controlling the spread of the virus. Keeping the situation in mind, a huge percentage of companies all over the globe have decided to adopt the "work from home" policy to keep their employees safe.
This will be a very different situation for a large population because they have been working in an office environment for a long time. Now, the sudden shift of working from home is not easy for most people. Furthermore, schools are also closed, so children are also staying at home. Handling the current situation and working from home will be difficult for many due to children playing around them and causing distraction. But don't worry, you are not alone!
As many parents are worried, so we are here to help them out. In the following blog, we are going to share the five tips that will make working from home easy for them even with their kids at home.
1-Divide Your Time to Stay Productive
Time management is important whether you are in the office or at home. According to a study, an average person remains productive for 2 hours and 48 minutes a day. If you are able to schedule your day properly, then you are able to increase your productivity even while working from home. You should set two times to work in an efficient way.
If you have a partner, then you can try to work in shifts. In this way, you both can look after your kids and can complete your office tasks easily. You can wake up early in the morning when kids are sleeping to finish a good portion of your work. If this does not suit you, then you can work at night after 9 or 10 pm when your children go to sleep. The choice is yours; you can manage it according to your family routine.
2-Set Weekly Goals Instead of Daily Goals
Following the daily schedule can be easy in the office as you don't have to look after your children. But at home, the situation is different. You need to plan accordingly for completing all the tasks. It is better to set your weekly goals instead of daily goals. For this, you need to go through your work. See what you have to submit or complete this week and then divide it according to your ease.
For instance, you can set time to write a blog, checking or replying to your emails, or doing some research. By completing these small tasks, you can easily complete your large tasks and manage your work with great ease.
3-Create a Slack Channel with Your Co-workers
Working from home does not mean that you should cut ties with your colleagues. You should interact with them on a daily basis just like you do in your office. The best way to continue the interaction is to set a Slack channel and add all your co-workers on that platform for instant communication.
With this approach, you can also discuss the work and communicate easily. Have you ever tried a video lunch with office buddies? It's time to do it now! Bring your snacks during tea time and enjoy it with your fellows.
4-Play with Your Kid Before Their Lunchtime
Most of the people love to wake up early in the morning and do some exercise to stay fit and active. If you are one of them, then wake up, do your exercise, and try to finish as much work as you can before your children wake up!
Once they wake up, play with them before lunch. After that, you can say them to take a nap, do some study, or let them play on their smartphones or tablets. Meanwhile, you can complete your remaining work before dinner time.
5-Relax and Have Some Fun
When you are going to tell your kids that you will be staying at home this will excite your kids. They will think that you will be playing with them all day. But as a parent, you will be worried about your work but have patience. There is no need to take the pressure of work. Stay calm!
Take a deep breath, schedule your work and try to have some fun with your kid. This will allow you to relax your mind and your children will be happy that their parents are giving them some time. There is no doubt that you need to organize yourself to get the thing done on time.
Yes! Parents Can Do It
These were the five tips that can help you to do your work from home. There is nothing difficult, you just have to figure out the things well to complete your work and make your children happy at the same time. Don't forget to take out some time for yourself. Do the things you like to do in your daily routine. For instance, if you love painting, reading a book, or anything else, then do it when you wake up in the morning before starting your work.
Moving on, if your children are too attached to their electronic devices even when you are at home, then you need to stop them. Wondering, how you can do it? We have a solution for you, get the FamilyTime premium to unlock interesting features like app blocking, internet filtering, limiting screen time, scheduling internet use, knowing about app usage, and much more with your fingertips. 
The app will help you in monitoring your children's online activity with few clicks on the app and give you full control of your child's device as well. You will be the in-charge and can stop them from using their mobile devices for a long time.
Stay Safe, Protect Your Child, Yourself, and Others Around You by Staying at Your Home!