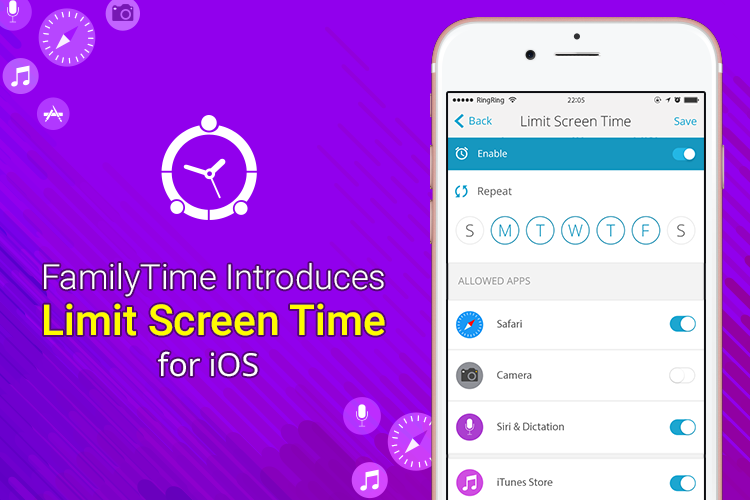 When was the last time you and your kids had a good old fashioned dinner where the talking was with humans, not the machines? Are games and online socializing taking too much of your kids time?If you often find your family split between the real and virtual world you need to stop and think if it is good for them.
As you start thinking you would realize the harmful effects of too much time spent on iOS devices. Teenagers spend more than 10 hours on their screens with 7 hours alone one browsing and applications. Excessive screen time can cause them a number of problems:
Source: Statistica
FamilyTime – A Perfect Solution!
Don't get too worried because FamilyTime has the best solution for you. Now you can easily limit the time your kids spend on their iPhones and iPads. You can lock their phones for specific intervals and restrict the use of applications as per your will. All you have to do is set the timings and app will lock and open the phone on its accord. Quite handy right?
Benefits of Limit Screen Time!
Set the rules one time and let FamilyTime handle the rest.
Forget your worry about missed meals.
Spend quality family time with each other.
Give them a solid 8-hour sleep by locking their phones at night.
Ensure a healthy physical and mental life.
Stop the interruptions and distractions during homework time.
Not having access to their phones would force them to have outdoor activity.
How to Do It?
Here is a step-wise guide on how to use the iOS limit screen time feature on FamilyTime:
How to Setup / Use Screen Time on iOS Devices
Establish a Screen-routine!
The adverse effects of screen addiction are dangerous for your kids. Cut back those hours and have your kids follow a routine. Enjoy proper meals with your kids and actual human interaction. Don't worry about their grades falling at school or dark circles under their eyes. Ensure a strong and vigorous life for them. Say no to screen addiction. Benefit from this amazing feature and much more with FamilyTime!