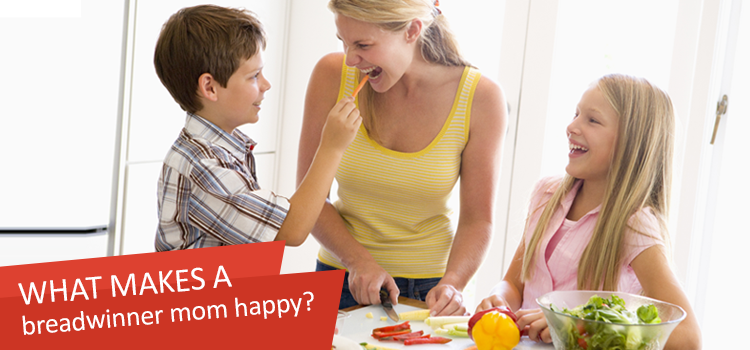 Mothers are great. They're the Masters of Multitasking. They know how to make the perfect cereal for us and only they know how to make the most delicious apple pies. But when moms need to earn a living, partially or entirely, it can get a little too hectic. Being a breadwinner mom is no easy stuff. The pressure is almost nerve-wracking and juggling work with the household chores can be a daunting task, nevertheless. Hats off to all the working moms for putting the bread on the table and never losing that tender smile and affection!
Breadwinner Moms: A trend on a rise
PEW Research Center reveals that a record 40% mothers with children under 18 are the sole or primary breadwinners for their families in the US. This means that every 4-in-10 families with children, mothers are the breadwinners. Another research indicates that most breadwinner moms in the US — 8.6 million, or 63 percent — are single mothers.
Most mothers are 'reluctant breadwinners' and they're not happy about it
The National Survey by Working Mother Media conducted a survey with 2,000 working moms and dads, including 820 breadwinners. Only 29% of the moms said they became breadwinners by choice while a surprising 71% said that they fell into the role by circumstance.
58% for the "reluctant" breadwinner moms were recorded to be dissatisfied about how their partners took care of the children. And as compared to the breadwinner dads, breadwinner mothers were more dissatisfied about the child care.
It's all in striking a balance!
Most breadwinner moms are not happy about being one because they are mostly concerned about child-rearing. Another research indicates that no.1 concern for mothers is their family. And an increasing number of breadwinner moms (72%) feel overwhelmed with the stress of balancing their work and family life.
A digital parental aide is what moms need!
If mothers, somehow, could get in touch with their children in a smart way, half of their worries can just go away. Most mothers would fee apprehensive about their teens' whereabouts especially when they have to take two jobs or a job that requires late sittings. Also, in cases when the partner is earning or a stay-at-home parent, working moms can sort things better when they can divide the responsibilities with their partners.
Parental control apps can do all this and much more: these apps let parents keep in touch with family digitally – just one app for all your parenting, communication and monitoring needs. You can view reports on your teens' device usage, track their whereabouts and set varied parental controls.
So, if you're a breadwinner mother, you could simplify your life a little with a trusted parental control app. Worry less, delegate more and stay happy because what you do, no one can do!