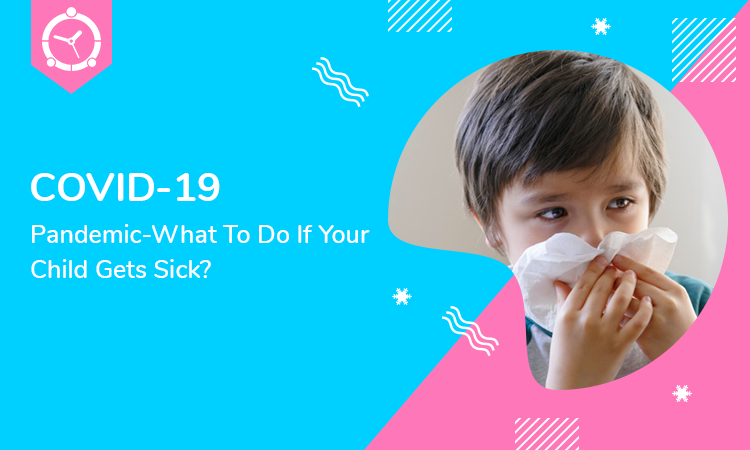 Coronavirus has created havoc all over the globe. People are staying in their houses due to the lockdown. Schools, universities, and offices are closed to control the spread of the virus. There is still no vaccine for the virus and we are getting new details with every passing day about the virus.
It is important to note that there are very few cases of the virus reported in children. It seems that there is a mild infection in a child as compared to adults or older people. But there is a possibility that kids might develop some serious symptoms.
In the following blog, we are going to tell you about everything you need to know and to do in such situation:
Signs and Symptoms of COVID-19
The signs and symptoms that will appear in a person suffering from COVID-19 are as follows:
Fever
Cough
Sore Throat
Fast Breathing
Shaking with Chills
Muscle pain
Headache
Loss of smell or taste
Muscle pain
Note that some kids have symptoms caused due to the inflammation in the entire body even after several weeks of infection due to the virus. Doctors are doing their best to find out how these symptoms are related to COVID-19.
Some other symptoms that have been seen in the kids are:
Fever lasting for several days.
Vomiting or Diarrhea
Red or cracked lips
Swelling of hands or feet
Vision problem
Belly pain
Joint pain
Headache
Looking pale
Rash or red eyes
What Parents Should Do If a Child Has Symptoms?
Parents should do the following:
First and most importantly stay calm.
Without wasting any time, call a healthcare provider. You can do the following:
Getting in touch with your doctor: It is best to take your child to your family doctor. The doctor will be aware of your family and child history. It will be easy for him to diagnose if there is any risk. The doctor will inquire about how your child is doing if they have been around with a known or suspected coronavirus individual. Your doctor will guide you in the right way to take the next step or do you need to visit him in-person.
Get telehealth visit: If this facility is available in your area, then healthcare providers will see your child while you are staying at home. If required, he will tell you where to take your child, in case of an emergency. It is important to check the telehealth facility in your area before anything gets sick in your house.
Let your child take maximum rest and let him drink lots of liquid.
It is important to look out for the following signs and get more medical help as soon as possible in the following condition:
If a child is very sick.
Will have a problem while breathing. Look for muscles pulling between the ribs or nostrils puffing out with every breath.
Have chest pain.
Looks confused or very sleepy.
Has cold, sweaty, blotchy, and pale skin.
Feeling dizziness.
How to Keep Other Family Members Safe if Your Child Has Symptoms?
Just keep your child inside your home. In this way, you will keep your child away from the germs. It will also help you to control the spread of the virus. If the doctor says that your child has coronavirus, then your whole family should stay at home.
If your child is 2 years older, then you should wear a face mask or cloth face covering if he doesn't have a problem while breathing. They should wear them when a caregiver is inside the room. You should not leave your child alone and if your child is not able to wear the face mask, then the caregiver should wear it.
Keep other family members and pets away from your child.
It will be good if your child can use a separate bathroom otherwise clean your bathroom regularly.
Every person in the family should wash their hands properly. Use soap and water for at least 20 seconds or use alcohol-based and sanitizer.
Use household cleaners to clean the surface that is frequently used like toys, light switches, doorknobs, phones, remote controls, etc. Clean them on a daily basis.
How Testing For Coronavirus is Done?
The testing procedure of coronavirus is changing. Local health departments, commercial labs, hospitals, doctors, and U.S. Public Health Services are trying their best to help people get their tests done.
For the test, the doctor will put a long Q-tip inside the nose called nasal swab and will send it to a lab. If a person has a mucus problem, the doctor might send that as well. Furthermore, some areas are also providing the drive-thru testing that will let people stay in care during the test.
If you think that your child has a symptom, then you should call your doctor or local department.
Treatment of Coronavirus
Doctors and researchers are working on a vaccine of coronavirus. The majority of the people with illness including the child will be better after taking fluids, rest, and fever-reducing medicine. But people who have severe symptoms might have to go to a hospital for the treatment.
Additional Tips
It is important for us to keep ourselves safe and others around us. Follow the below tips:
You should avoid contact with other people especially those who are sick.
Frequently wash your hands.
Cough your mouth with an elbow when you are sneezing or coughing.
Ensure that the kids get all recommended vaccinations for other infections like measles and flu.
Over To You
Hopefully, now parents will not be worried if their child gets sick. They need to relax and do the above thing. If a child has a high fever and problem while breathing, then he should be taken to the hospital for treatment.
During the lockdown, your child will try to spend most of his or her time on digital devices. If you are worried about the increased screen time of your child, then you should get the FamilyTime app to monitor your child's activities and know their location when they are outside the house. Some of the best features of the app are the SOS/Panic button, location history, app blocker, internet scheduling, and much more.