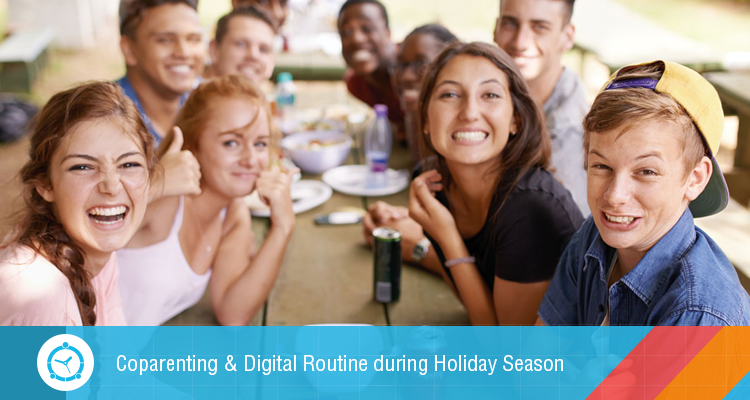 Co-parenting can be a challenge, especially during the holidays. Everybody wants to make the best of them. Parents want to spend time with their kids, kids want to have fun and enjoy the free time. But if there are two different households it can be difficult for parents to make a schedule that doesn't throw everyone off track.
Apart from that, if you have some digital rules set for them, they can be forgotten during this time. Like if the kids spend alternate Christmas with each parent or share the day, the change of routine may cause them to change the rules as well. Communication can prove to be a difficulty too. As the Christmas holidays are coming, we decided to give you some tips on how you can make co-parenting less stressful and make sure your kids follow the same rules wherever they spend the holidays.
Plan the Holidays
A good practice is to plan before time. Involve the kids as well. Decide how you will spend the holidays so that everyone knows how it is going to be and prepare themselves for it. Respect each other's family traditions and teach the same to the kids. Make sure you put your kids' comfort and happiness at priority.
Appoint a Mediator
Once the plan is made and the general rules are discussed you need to go through the digital rules as well. It is very important that the kids follow the same digital routine wherever they live. This also stands true for days other than the holidays. It is good that have the same screen time and restrictions. For this purpose, FamilyTime is a great mediator. See how:
You can add more than one parent accounts on the FamilyTime app. All parents have access to their kids' devices and the same privileges.
Once the limit screen time rules are set, they remain the same everywhere. If the kids are traveling to another time zone, their parent can always change the rules accordingly.
Both parents can monitor their kids' whereabouts ad get notified about their activity. This is a great way for both of them to stay in the loop even of one of them have them.
Both parents can also continue to monitor their kids' web activity, text messages, and other activities.
Isn't it great that both parents stay connected to their kids and the kids have the same digital rules or schedule no matter how or where they spend their holidays?
Stability is vital for kids, both in the non- digital and digital lives. A parental control software enhances communication between the parents and allows them to maintain the digital check on their kids. This is the time where kids can usually go off limits or adventure a little too much. So, in order to avoid that, all you have to do is bring in a middleman which in this case is a parental control such as FamilyTime. Give your kids a steady life and keep having fun!