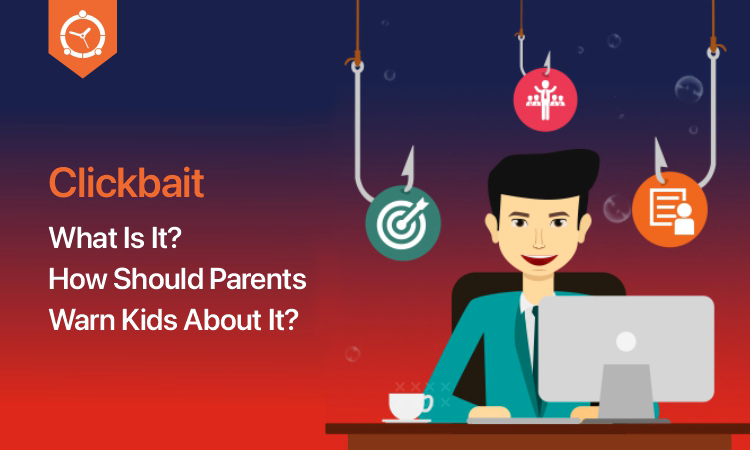 Life without the internet and screens seems impossible to imagine. Not a day goes by when people (kids and adults alike) don't use their smart devices for work or entertainment. It has become a common phenomenon these days that we see some image or link with an eye-catching headline that makes us click it while scrolling through social media or surfing the internet. However, it turns out to be a mere waste of time and leaves us infuriated. Know what that is? Clickbait. Let's explore what it is and why parents must warn their kids to stay away from it.
What Is Clickbait?
Clickbait is the type of digital content created to attain the maximum number of clicks/views by any means necessary. These links could be attached to attention-grabbing headlines with half-truths, too-good-to-be-true schemes, or eye-catching images that lure people in to click on them.
For example, you may see a headline that goes, 'Lose 5 pounds in a day with no exercise or diet.' Once you click the link and read it, nothing in that content provides anything of value or shows how a person can lose that much weight in a single day with zero effort. Let's dive in and learn how to spot clickbait and teach kids to steer clear of them.
How to Identify Clickbait?
Clickbait content exists in many shapes and forms. Let's look at some of the most common examples parents should show their kids to protect them against issues such as identity theft, phishing attacks, malware/viruses, etc.
Headlines – 'Your worst nightmares are about to come true. Save your family from getting obliterated.' Or, 'Get your free monthly horoscope and solve all your future problems.' These are a couple of examples we often see while surfing through social media platforms that prey on people's fears or insecurities.
Gifs/Photos – You may see doctored photographs of famous stars doing something unsavory or in bizarre attires, etc., that might make you curious enough to click on the link.
Too-Good-To-Be-True Gimmicks and Schemes – A title that goes, 'Click here to get your free tickets to Justin Bieber's concert.' Or something that says, 'You have won 1 million dollars! Collect your prize money here.' Such things are commonly found on social media sites and are nothing more than clickbait.
Let's look at how these things can negatively influence your kids and why must parents educate their kids about it.
Negative Influence of Clickbait on Kids
Kids are naive, meaning they are more prone to falling for clickbait. They can click on something harmful and download viruses or ransomware that can put the entire family at risk. Your computers, tablets, smartphones, etc., could get hacked, and you may get targeted for identity theft. All that is merely a glimpse of the possible nightmares associated with clickbait. 
How Should Parents Warn Kids About Clickbait?
Here is how you can warn kids not to click such links or images and teach them to prioritize their digital safety.
1- Educate & Teach Kids How Not to Fall for It
Raise awareness in kids about this digital threat. Show them what it means with real examples so they may understand. Tell them how it could rope them in and make them waste their precious time.
Teach kids how they can spot such things and avoid the temptation of clicking such links. Show them that clickbait can lead to identity theft, especially in cases where they must provide their full name and date of birth.
For instance, kids may see a quiz to see what celebrity they match. They may get curious and click on the link. Kids are likely to download a virus or provide their personal information, which could put their digital security at risk. Parental control apps, such as FamilyTime, are remarkably effective in safeguarding kids against such threats.
2- Protect Them with FamilyTime
FamilyTime is one of the best parental control apps because it offers protection against several digital and real-world threats. Here is how it can safeguard kids against clickbait.

Internet Filter – FamilyTime's internet filter allows parents to block inappropriate websites with unsafe content. You can use this feature to revoke kids' access to websites that provide falsified information or sites famous for clickbait content.
YouTube Monitoring – Such content is rampant on YouTube. The overabundance of videos with saucy titles, eye-catching thumbnails, or juicy celeb gossip is enough to make kids/adults click on them. Kids may accidentally watch something unfit for their age. FamilyTime's YouTube Monitoring feature helps you block such content remotely. You can monitor your kids' search & comment history too. That is not all. FamilyTime empowers parents to fight online threats such as cyberbullying, racism, sexting, online grooming, and more. Parents can prevent kids from getting exposed to inappropriate content on the internet and on social media platforms like YouTube and TikTok. So, are you ready to protect your kids against clickbait? Sign up, install the app, set it up as you like, and voila!