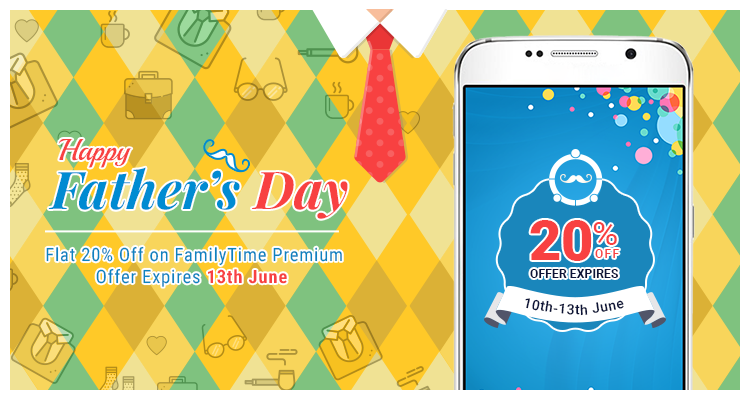 It's June! Time to celebrate all the fathers out there. Fathers have a natural role to take care of their family and provide for them. While this love should be reciprocated every day, it's still good to have a special day to give them all the extraordinary attention they deserve. FamilyTime has taken up the task to make this Father's day a special one!
Brush up your protective streak by providing the best protection for your kids. Ensure your kids' safety and relish smart parenting by getting FamilyTIme Premium at an amazing 20% off!
Get the Premium Protection
This Father's Day, we offer you the amazing opportunity to get FamilyTime Premium at a great discount.
Give your kids the finest care by keeping a check on their whereabouts, online activities and limiting the use of unsafe content. All this at 20% off, what else could you ask for?
Hurry Up, The Offer Ends Soon
That's right! Get rolling because this offer won't last forever. The Father's Day discount is valid from 10th to 13th June. Mark the date, you have until 13th June to benefit from this opportunity to avail the exclusive features and ultimate customer support! Don't miss out and enter the code LUCKY20 in the "enter discount code" field as you check out to get this awesome gift on this special day.
Be a Super Dad by ensuring the safety of your family! Happy Father's Day!