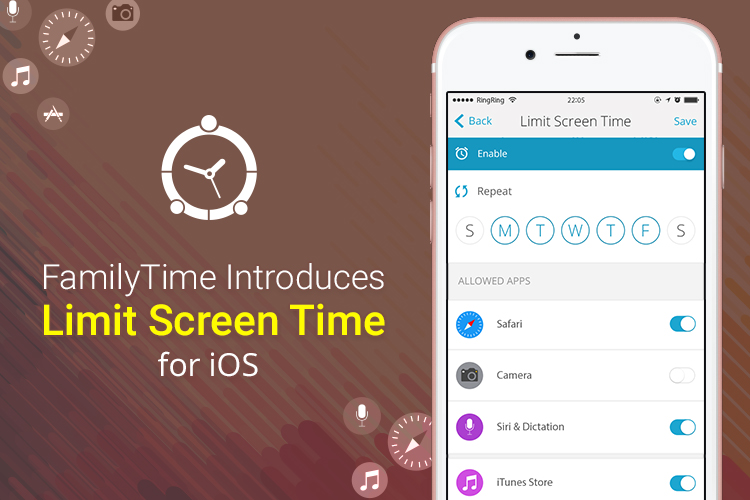 FamilyTime dazzles again with a brand new feature for our iOS users. We know your concerns well and constantly try to come with the best solutions for your parenting needs. You can now kiss all your worries goodbye because the much awaited Limit Screen Time for iOS devices is now live!
Manage Screen Time Addiction
Have bought your kid an iPhone but now you worry they might be using a little too much? You don't need to worry anymore about the excessive screen time, missed meals, homework or worse; addiction to their iPhones, iPads or iPods! You heard it right, using this latest addition to our amazing features; you can handle their schedules and web browsing. Furthermore, you can control the use of systems apps like Safari and Camera and 3rd party apps available on the store as well. You can define as many rules as you want. Set up different bedtimes or homework times for all your kids. Make sure they don't miss the meal times and spend quality family time with you. Everything can be set as per your need. And all this is done from your online Dashboard!
How Does it Work?
This feature is pretty easy to use. All you have to do is go check your Dashboard menu. To setup and start using this feature, we have designed a step-by-step guide that will walk you through the entire procedure. So click here or the button below to check our guide:
How to Setup / Use iOS Screen Time Feature
Try the Feature and Share Your Feedback!
Excessive time spent on devices can lead the way to many physical and mental health issues for your kids. They love these devices but don't know what's best for them and that's why you need to take control. In order to ensure a healthy lifestyle and protect your kids from becoming screen addicts, you need to take necessary measures. FamilyTime in this matter provides the best help!
So wait no more, and try out our new feature! And don't forget to share how you liked it in the comments section below! Happy parenting!