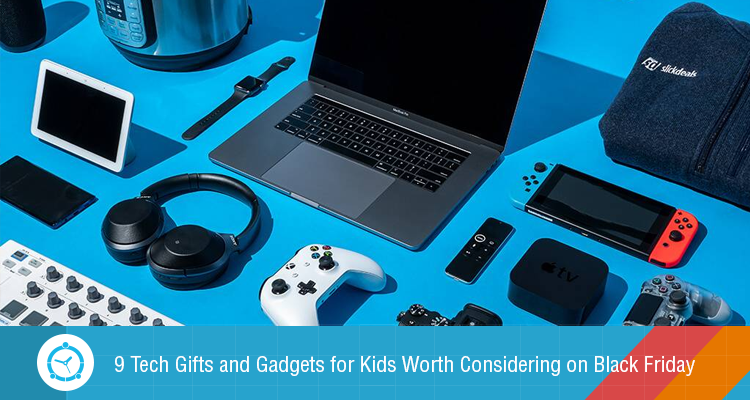 Black Friday is just around the corner and everyone will be hunting for the frugal deals. From laptops to smartphones and clothing to gadgets, everything will be offered for a discounted price.
As much adults, kids are also excited about the big shopping event. Kids usually wait all year long to convince their parents to get their favorite gadgets and tech devices that are priced too high.
No doubt, kids also deserve a piece of cake on this shopping event that lasts for around a week. If you are still looking for Black Friday Tech Ideas for Kids, then have a look at some of the best tech devices you can get for them. Let's get started.
Kindle Kids Edition
If you are looking for something that could help your kids to develop and learn, Kindle Kids Edition can be a great idea. The device is meant for beginners and advanced book readers, so don't worry if your kid is new to reading books.
The best part of Kindle Kids Edition is that it is meant for just reading purpose – which means that there would be no distraction from games, videos or apps. Help your kids download books and enjoy reading before bedtime. Your kids can enjoy reading books whether it be Harry Potter, Lord of the Rings, The Magicians Nephew or Frozen.
Nintendo 3DS XL
Is your child a gaming geek and need some gaming console from you on this Black Friday? Nintendo 3DS XL is surely going to win the heart of your child and would remember in the later years.
The Nintendo 3DS XL is faster and powerful than the previous version i.e. Nintendo 3DS. The console has a built-in NFC and amiibo for greater control. Make sure to have a look at the age requirements and review on YouTube to get a bigger picture.
Holy Stone HS200 FPV RC Drone
What comes in mind when choosing a tech device for your kid. Usually a smartphone, kindle or a tablet. But the choices are unlimited and if you are looking for tech device this Black Friday for kids, don't forget to add Holy Stone FPV RC Drone to your list. Your kid would love to play with it.
Designed for beginners and intermediate, the drone features HD Wi-Fi Camera, altitude hold function, lighting system, app control and 4 speed adjustment. If your kid loves to explore the things in a different perspective, the drone would prove to be a great pick this Black Friday.
Apple iPod Touch
Shopping for great deals on Black Friday never completes without the addition of Apple products. If your child loves music, why not consider an Apple iPod Touch that comes with massive storage of 32gb. After the launch of the Apple iPod, things improved along with various addition to features and functionalities.
Apple iPod Touch also comes with a powerful battery that could last 40 hours of playback. Apart from that, your kid can also enjoy recording videos in 1080HD along with wireless internet connectivity and 8-megapixel camera.
Instant Photo Printer
No one could ever imagine enjoying vacations without clicking pictures. After capturing the pictures, you need to get the prints as soon as possible. Why not consider giving a gift to your child to print photos instantly.
If your child has great skills clicking pictures, you can also consider buying an Instant Photo Printer. Let the kids print out memories without waiting and put it in a photobook. Don't forget to consider buying an instant photo printer to give your child a pleasant surprise.
Wireless Headphones
Your kid might need a headphone to listen to music or enjoy gaming. Don't miss the opportunity on this Black Friday because wireless headphones would be offered for a great deal.
Consider buying glasses friendly wireless headphones, if your child wears spectacles. Untangle your kid from wires and plugs while they are gaming, watching a movie, or listening to music.
Oculus All in One VR Gaming Headset
VR headset is a great choice for your kid to consider. If you are thinking of buying a Virtual Headset, there is no better VR than Oculus All in One VR Gaming Headset. Oculus Quest needs no wires or PC. Enjoy playing games with a VR headset and controllers. Your child would surely love to have this high-end VR gaming headset on Black Friday.
GizmoWatch
If you are not willing to give a smartphone to your kid on this Black Friday, consider buying a GizmoWatch. This smartwatch can help you to stay connected with your child and trace their location. Moreover, it also helps track your kid daily steps count, receive calls, send calls along with messaging up to 20 pre-approved contacts.
Nokia 4.2 Smartphone
If you are looking for an entry-level smartphone for your kid, Nokia 4.2 is the best option to look for. The features integrated into this smartphone will truly engage your kids and fall in love with this device.
The smartphone comes with a number of features including face unlock, fingerprint scanner, 32gb internal storage, and quick charging technology. Make to give a smartphone after you have analyzed whether the child is capable of handling the device or not.
Conclusion
In this article, we have compiled the list of best tech items you can buy for your kid this Black Friday. However, make sure that if you are giving a smartphone or tablet to your kid, don't forget to install FamilyTime. 
By installing this parental control app, you will be able to track and monitor your child's activities online. Moreover, you can also limit screen time on both Android and iOS devices to control screen addiction. Make sure to have control over your kids after buying a tech device on Black Friday.