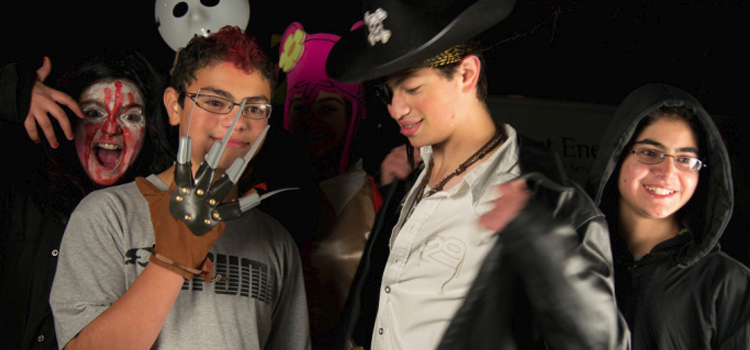 Halloween is a synonym for fun, adventure, and freedom for everybody, especially the preteens and teens. They wait their whole year to enjoy the night. They make plans for their "trick or treat" adventure, get their special costumes made, make groups to enjoy with etc. All their fun plans carry the fear factor for the parents as they know that the Halloween is associated with scares and understand how the fun can pose dangers to their young revelers. To help those parents, here we have come up with 5 Halloween safety tips that they can use to ensure their kids' safety.
1.      Tell them to Stay in groups
Tell your kids to stay in the group of their friends during the trick-or-treat adventure. They shouldn't do it all alone, especially in the late hours. Also, it is recommended that they make small groups within the large group so that every group keeps track of the other and none of them gets lost.
2.      Tell them not to enter the Stanger's home
Before your kid set out for the Halloween fun, tell them not to enter any stranger's place. Even if they are roaming in their own street and the neighbor seems nice, they shouldn't accept the invitation and refuse nicely.
3.      Tell them not to eat the unwrapped candy
On Halloween, it is permissible to accept candy from the unknown people, but safety comes first. Ask your kid not to eat the homemade or unwrapped candies received from strangers. The best suggestion can be to collect the candies and not eating those on the spot.
4.      Tell them to keep their cell phones with them
Hand over your kid their cell phone before they head out and instruct them to keep the phones with them active. They can use their phones to stay connected with you throughout their fun travel and can also use it as a source of light in the dark streets.
5.      Keep track of them using Family Tracker:
After you have instructed your kid all the safety measures, it's time for you to install the family tracker app on your phone and pair it up your kids' smartphone. Through the app, you can keep track of your kids and trace their locations through the GPS tracking functionality. The app offers an advantage of staying updated without bugging the kids in their fun by calling them again and again.
This Halloween, use the five above-mentioned tips and let your kids have fun freely!