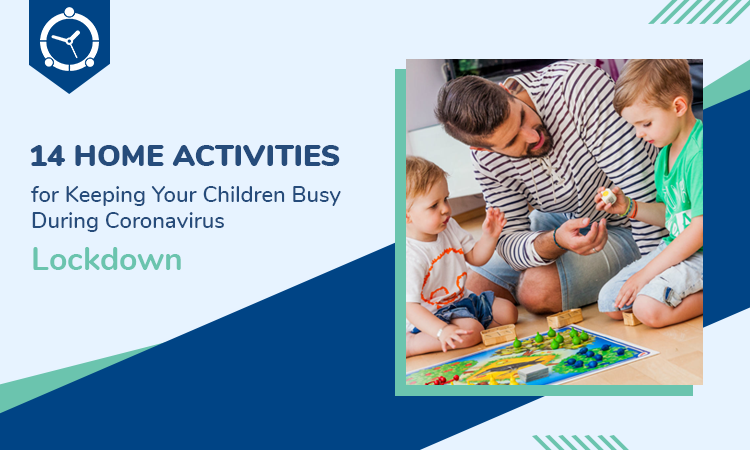 Coronavirus fear is growing with every passing day. The condition has forced people to stay at their home. There is a very strict lockdown in most of the countries around the world.
As schools are closed, children get bored at home and they are looking for something to do. The easy solution for them will be using their mobile devices and playing on it all day. But that's not good for them! Right? So, what are you planning to keep them busy during the coronavirus lockdown?
If you have no idea how to deal with this situation, then you are not alone. The majority of the parents are looking for the way to keep their child engaged. Today, we are going to share 14 activities that can be done to keep your children busy at home during the shutdown:
1-Create a Small Library
Does your child love to read books be it a storybook, novel, or comic book? If yes, then you should set up a small library in your home. In this way, your child will be happy to read the books and can spend quality time getting knowledge from the books instead of playing on their mobile devices.
2-Build a Jigsaw Station
If your child loves to play with the puzzles, jigsaws and have Lego sets, then you can use them in a smart way! Give a table or a place to your child where he or she can do all the fun. That place will act as a jigsaw station for your child. This type of activity will help your kids to stay focused.
3-Try A Musical Activity
Children love music, so why not playing musical chairs? Turn on the music and let your children play. Parents can also play with them to have good family time as they are also working from home nowadays. You can also search for videos on YouTube to get ideas about musical activities.
4-Set a Mud Kitchen in the Garden
Most of the children love to work in the garden and play with mud. They try to make things using the mud or clay. So, you should give them some old plastic containers to play in the garden. But don't forget to put a dry cloth at the front door so that they don't come straight in a house with mud on their feet. Furthermore, your child can use chalk for creating a track on the patio to play with the cars.
5-Let Them Learn Some Cleaning Skills
Most of the parents do not engage their children in cleaning activities. But this skill is a must and will help them in their life. So, if you have not engaged them before, then this is the right time to do it. To make things interesting, you can have a little competition of scrubbing to see whether you make utensils shinier or your child. It will be fun!
6-Make Dressing Box for Costume Play
Does your child love to suit up as a comic character or a cartoon character? Well, you can give them a box and place all their costumes on that. They can try on one of them according to their desire and can play for staying busy. Furthermore, you can say them to read the story about that character and do a role-play to make things interesting.
7-Make Homework Interesting
Schools are closed but that does not mean that there is no homework. Schedule a time during which your children will be doing the homework but don't forget to make it interesting. Parents can design some interesting activities that are related to their topic for better understanding and to have some fun.
8-Cook Together in Kitchen
If your child loves to cook, then you should let him participate in cooking. Even if your child doesn't love to come inside the kitchen, then still try to involve him in the kitchen tasks to keep him engaged. Moreover, if the weather is nice, then you should cook outdoors.
9-Go for a Story or Scriptwriting
This will be fun! Pick one storybook and dress your children just like the characters and let them act according to the story. This will keep them busy and they will enjoy it a lot.
10-Time to Teach Them Some Practical Skills
In our normal routine, children and parents both are busy. But now it's time to teach them some practical skills. If your children love to repair things, then give them a toolbox to fix old toys. In addition to this, if your child loves to sew, then give a small sewing machine to sew some bags, dress for dolls, or anything they want.
11-Watch Some Documentaries
You will have a good amount of time to try out different things. Why not watch a documentary together? In this way, your child will learn things and try to answer the question he or she asked after watching the documentary to clear their confusion if any.
12-Use Digital Devices for Education
I know this might sound a little weird but don't worry. Permission to use digital devices will be only for the educational purpose. Install educational apps on their devices and let them learn. Let them use their digital devices once they have completed their homework.
13-Time to Learn New Language
YouTube is a good platform to learn things. As children have a lot of time, use this time to teach them a new language. Play the videos on YouTube so that they can understand the words with ease, can pause the video to learn, and can do the practice to write it down.
14-Schedule Art and Craft Time
Encourage your child to be creative and allow them to make or design different things according to their own desire. When they are playing, put down the newspaper on the floor to handle the mess.
Over To You
These were the 14 activities that parents can allow their kids to do during the coronavirus lockdown. Hopefully, they will stay busy and will not use their digital devices all the time.
Moving on, as a parent, if you want to reduce the screen time of your children or want to monitor their messages, contact details, and much more than you need to install FamilyTime instantly on your device. The app has many useful features that will make the monitoring easy and parents will have full control over the child's device.
Stay Safe and Stay Home!