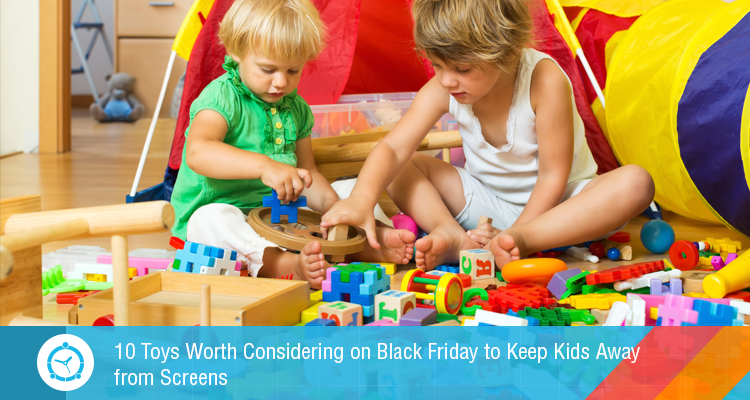 Black Friday shopping craze has now taken every savvy shopper by storm – with almost 3 days left, countdown deals have just begun. Every merchant including Target, Amazon, Walmart and Best Buy are working hard to generate maximum sales and attract shoppers to their stores.
You might have prepared a wish list before the shopping spree starts. From fashion accessories to clothing and tech devices to gadgets, the list goes on and on. Some of the deals might be easy to grab while others might end before you can add it to your cart.
With all the list you have prepared for Black Friday, you might have ignored your kids. They are also eyeing upon some attractive deals available on toys, games, gadgets, mobile devices, laptops, and other electronics.
However, you don't need to buy everything they demand especially when it comes to electronic devices. You might know how addictive these devices can prove to be. Especially when it comes to toddler and preschoolers, giving a digital device would prove to be quite dangerous in terms of mental and physical health.
If you are thinking of buying something for kids, here are some of the toys you could buy without worrying about their health. These toys are quite helpful to keep them engaged and busy while you are doing your household chores. Moreover, they can prove to be a remedy for brain development. Without further ado, let's have a look at some of the toys you can buy on Black Friday.
Mega Bloks 80-Piece Big Building Bag
Building blocks are always an attraction for preschoolers and toddlers. This Black Friday consider buying Mega Bloks 80 Piece Big Building Bag containing different blocks of various shapes and colors. The building blocks can help your child to come up with creative ideas to construct anything from towers to trains and buildings to houses.
Moreover, the building blocks can help develop motor skills and open new horizons of creativity in your child. Don't worry about the mess created with these blocks because the pieces are easy to store in a travel-friendly bag.
Learning Resources Pretend & Play Doctor Kit
Pretend and Play Doctor kit is yet another great toy to buy for your kids on this Black Friday. It comes with all the tools and surgical equipment that would be enough to satisfy your kid's obsession.
The set would help your child to develop motor skills and cut down anxieties by acting as a doctor. All of the items included are made from robust plastic. The set includes a realistic-sounding mobile phone and battery-operated stethoscope. The case comes with massive storage to place everything with ease.
Gravity Maze Marble Run Logic Game
Gravity Maze Marble Run Logic Game is a deal not to be missed on Black Friday. The game helps your child develop reasoning skills and put their brains to test. The game comprises of 9 building towers, 60 challenge cards, target tower, a game grid, and 3 marbles. Make sure to read the manual instructions to fully understand the game and help your child to learn about this game.
Magna-Tiles 32-Piece Clear Colors Set
Magna Tiles 32-piece Clear Colors Set is a great game for preschoolers and grownups to amalgamate creativity, science, and mathematics all together. Gives endless hours of fun to your child and learn new ways to play with shapes, symmetry, colors, and principles of the magnet. If you want to keep your kids away from screens and engage them in something educational and creative.
Spike The Fine Motor Hedgehog
This great toy is enough to develop motor skills in your child especially toddlers and preschoolers. Spike the Fine Motor Hedgehog can help your child learn, sort and recognize colors, counting, and sorting skills.
The pieces are easy to grip in little hands and the set includes activity guide, 2-piece hedgehog and 12 quills. The toy is recommended for 18+ month kids. Don't miss the deal this Black Friday because you aren't looking for your child to get addicted to screens at an early age.
Art Desk Easel
The Art Desk Easel is suitable for age 3+ years and comes with an art desk station. If your child loves to play with sketches and crayons, just don't forget to bring this to home.
The kit contains a double-sided easel, chalkboard at one side and a plain whiteboard on the other side. The kit contains ample storage areas to keep paint, crayons, markers, notebooks, and much more to give easy access to your child.
My Little House
My Little House is a great toy for your kids to have fun and develop skills like vocabulary and language. Within the package, you will find a box flat that is like a four-panel board. However, the best thing about My Little House is that your kid can convert it into a three-dimensional playset.
The package contains 37 soft sticky pieces that resemble everyday objects and rooms that your kids are much aware of. It a great leisure activity for your kids to help them stay from screens and spend quality time building and developing creative items.
Elmer's Glue Deluxe Slime Starter Kit
Elmer's Glue Deluxe Slime Starter Kit is another great way to engage your kids in creating something out of the box. If your kids are obsessed with arts, go for it on this Black Friday.
The slime comes in different colors including blue, pink and purple. Your kids can enjoy and have a fun time for hours without giving a second thought to using mobile devices, tablets or laptops.
K'NEX 70 Model Building Set
The toy is not suitable for children under three because of it contains many small hazardous and choking parts that your kids could easily swallow. K'NEX 70 Model Building Set contains rods and pieces that can be easily joined together in order to create different shapes from cars to tractors and planes to houses.
Your child can create up to 70 different variations using these sets of rods and pieces. Moreover, the package contains a handy storage box so that your child can organize all the things in one place without misplacing any.
Robot Turtles STEM Toy and Coding Board Game for Preschoolers
Robot Turtles STEM and Coding Board Games for Preschoolers is a great way to teach your preschooler the basics of coding, functions, and programming in a fun way. Your child would really love to learn the basics of coding and provide several opportunities to learn and play. The game has various levels from beginners to advance. Before you buy this game for your kid on black Friday, make sure to ask whether he/she is interested or not.
Conclusion
Black Friday is just less than a week away and if you are considering buying a toy for your kids, make sure to avail this opportunity. Let your kids come out of the digital world and offer something that would help them develop motor skills and creative skills.
If your kids have developed a bad habit of screen addiction, don't worry because FamilyTime is here to help parents. Don't be worried about your child accessing adult content or spending too much time on social media, chatting and browsing the internet because you can trust this parental monitoring app without giving a second thought.
FamilyTime has got you covered from every aspect that would lead your kids to screen addiction. For instance, the app allows you to limit screen time on both android and iOS, block apps and games, and enable internet filters.