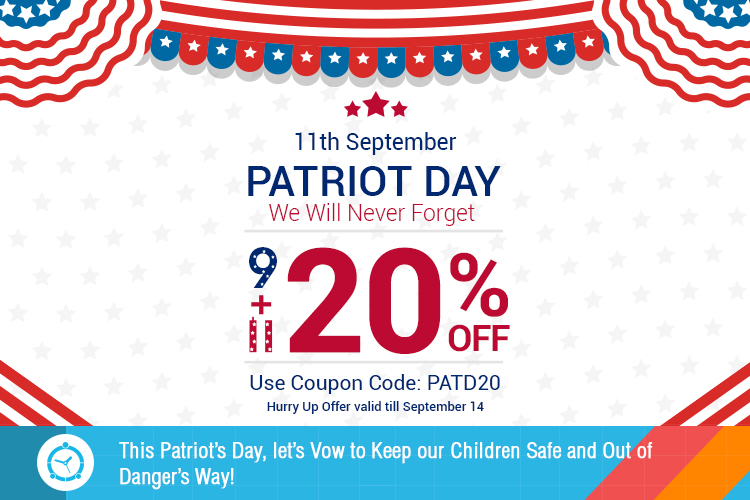 National Patriot's Day is around the corner and we can't but forget what happened 16 years back. This day reminds us about the people who lost their lives n the tragic 9/11 attacks. Let's never forget what happened and let's all vow to keep our children safe and sound.
FamilyTime – Your Safest Bid
If you want to make sure that your children remain safe and under your watchful eye, rely on none other than familytime Premium parental controls. We have designed the parental controls for a modern parent's needs. You can be thousands of miles away and yet see what your children are up to and where they are at all times.
A Steal-worthy Deal
We bring you the best Patriot's Day deal: upgrade to FamilyTime or subscribe today to the Premium and get a flat 20% off. With this, you can lay to rest all your parental anxieties and worries because your children be always under your watchful eye.
Here is how:
Track their location history any time.
Set places like home, school, bar, their friend's place, etc. as Geo-Fenced Places.
Get instant check-in and check-out alerts when your kids enter or leave those places.
Get instant alerts as your kids try to cross the safety speed limit while driving.
Get instant SOS or Panic Alerts from your kids when in danger.
FamilyTime Premium comes with loads of other parental controls like Screen Time Locks, App Blocker, Content Filters and more. It's time to switch to digital parental controls and experience the power of the most trusted parental controls app- FamilyTime.
But this is a limited time offer so you need to avail it before it ends. Hit the button below an get your 20% off right away!