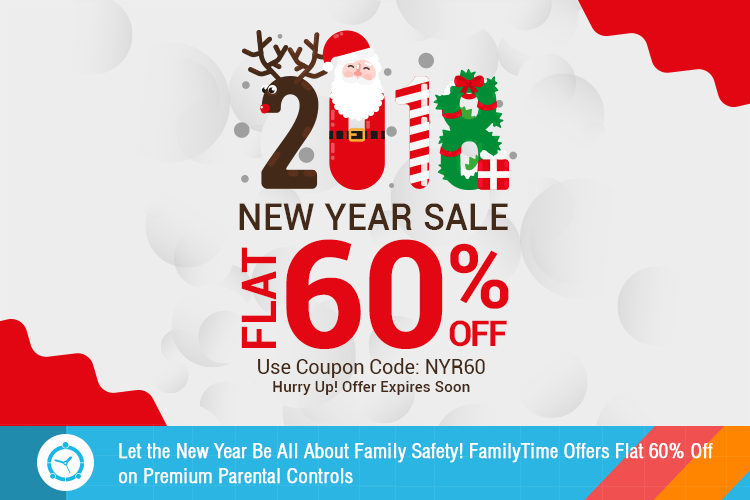 Another year comes to ends and we are yet to see the dawn of another promising year. May this year bring all the happiness and may this world become a better place to live. Idealism aside, one must be prepared to meet the challenges, too. Parenthood comes with millions of challenges and as your children grow, you must keep them protected from a score of threats and risks.
FamilyTime understands your concerns and wants to equip you with the best parental controls as you could put tabs on your children's online activities and their whereabouts and also control and regulate their digital lives.
As the year comes to an end, switch to the effortless parenting and revamp your old-style parenting with our Premium digital parenting. Upgrade to FamilyTime today and get a flat 60% off!
New Year; New Challenges
Each year as your children grow, they face a different set of challenges- cyberbullying, sexting, pornography, possible dating violence, road accidents, teen kidnapping and what not. If you are better connected with your kids and can keep an eye on their whereabouts, you can minimize these risks significantly.
Try our parental controls and see how they help you to:
Stay updated on their Location History
Block inappropriate Apps
See their Installed Apps
Get detailed report on App Usage
Set Daily App Usage Limits
Set TeenSafe speed limit alerts
Get SOS alerts from your kids in emergency
FamilyTime – The Smartest Digital Parenting Solution
FamilyTime has evolved into a complete digital parenting solution that will keep you updated on all aspects of your teen's life – their phone usage stats, location history, Internet searches, apps and much more. All you have to do is install the FamilyTime app on their phones and experience the magic. Don't miss the opportunity and claim your 60% off right away! Discover the new-age digital parenting with FamilyTime Premium and Happy New Year!