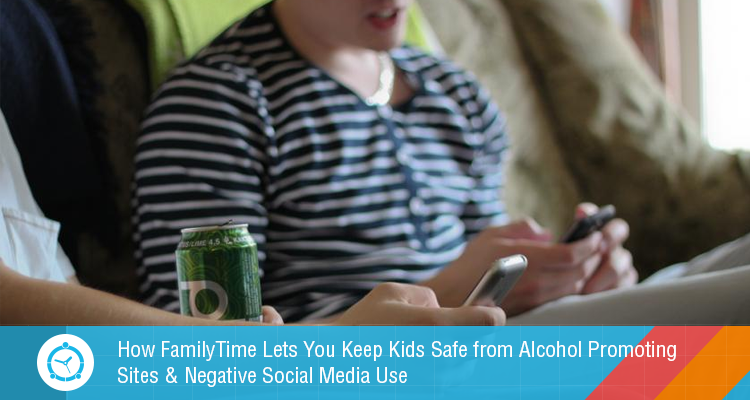 In US, public health campaigns have worked a lot to prevent alcohol abuse at early years but still it has become a routine part of teen's life. It's an unfortunate reality of our society that teens are no longer protected from alcohol related info and drug promoting sites. Internet has stimulated the teens' willingness to look cool. There are a lot of sites that are actively promoting drinking and drugs and sadly a large number of teens are visiting these sites.
Social Media and Alcohol Abuse
As teens are spending a lot of time on social networking sites prominently Facebook, Instagram, SnapChat and Twitter, alcohol and drug sellers are using social media marketing to reach out to teens. There are a lot of pop ups and adverts that are attracting teens and they are actively reading about the alcohol online. Not only adverts on social media, there are some sites which are specially working for promoting drugs and alcohol use and different options teens could have. Teens are starting the alcohol abuse at very early age that can have physical and psychological impacts. It can cause them to lose their temper, start physical abuse, dating abuse, car crashes, headaches, mental problems and violence.
These behavior changes can push your teen into serious troubles. Teens are visiting dangerous sites on daily basis. So, we the parents have to be even more proactive in teaching a moderate and responsible use of social media.
FamilyTime – Your Partner in Fighting Alcohol Abuse
You can't restrict kids' access to the Internet which could provide info about alcohol and drugs. But what you can do is to go for a preventive measure by making the Internet and social media safer for your kids. FamilyTime stands against alcohol abuse and all online content inciting kids into doing such stuff. Installing FamilyTime app on your child's smartphone, you can monitor and prevent your kids from doing such ham to their bodies and minds. FamilyTime has an array of features to help you in this regard:
Internet History Monitoring – So you can keep an eye for all such sites that your child could be visiting.
Installed Apps Tracking – To monitor which apps your child has installed on the phone and if there is any app that shouldn't be there
ScreenTime Controls – To make your kids use their smart devices moderately and not during homework, dinner and bed time.
App Blocker – So you can block all such alcohol and drugs promoting apps for good
iTunes Content Filter – To block adult and dangerous content from iTunes search, iBooks, Podcasts, etc.
Strive to Create a Safe Tech Environment for Your Kids
Present times call for more effort to create a safe tech environment for your kids and to make sure they stay safe from all threats. Step up and get FamilyTime on your team because together we can raise a tech-savvy yet responsible e-citizens for a better tomorrow!