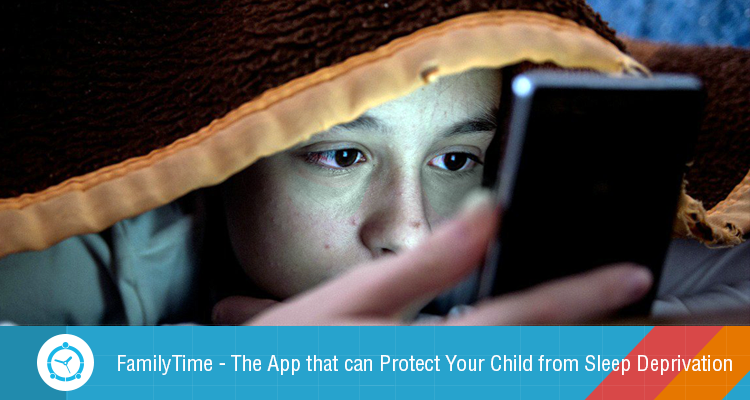 Do you know cell phone radiations could ruin kids' bedtime? Mostly parents don't pay attention to this important fact. The use of cell phone in bed could cause reduced sleep, and serious headaches. Moreover, sleep deprivation can cause long-term negative impacts on kids' cognitive abilities, stress level and their attention and alertness. If your kids are complaining they can't sleep, don't ignore. Use of a prenatal app like FamilyTime enables you to control their cell phone usage in a smart manner.
Sleep deprivation is alarming
This scenario is similar in every household these days. Kids are browsing social media and playing games and complaining that they can't sleep.  But mostly parents are not much aware of the reasons why kids are finding it hard to sleep well. Every parent must know how harmful smartphone could be at bedtime.
According to Health Science Degree, the sleep deprivation could cause the kids to behave like walking dead. 70 million Americans are suffering from problems which can cause a number of different diseases. When handing over a smart device to your kids you must know that bedtime use of smartphones could cause decreased alertness, cognitive impairment, increased appetite and increased stress level.
Control bedtime usage of smartphones
Almost all of the kids use one or more smart devices during the last hour before their bedtime. It is the direct cause of sleep deficiency and depression. If your kids say that a quick game of CandyCrush or checking their Facebook account can make them relax before going to sleep then make sure they are actually using for some time.
Kids can abuse the freedom so smartly, so try to be an intelligent parent in dealing with their twisted truths. Don't take their lies personality and take your precautions to protect the kids. In this regard I examined and tested an app FamilyTime which can enable you to stop kids from using cell phone at bed, light out or school hours. Have a look at its features.
You can:
Put bedtime lock
Block specific apps
Put screen locks
Defend your kids from sleep disorders
Cell phones are the cool and useful devices but only; if used carefully. The bedtime use of these gadgets can harm kids' mental abilities, reduce their sleeping hours and they cause headache and anxiety. So try to be a smart parent in this smart era and give a try to FamilyTime parental app. help them keep the pace with digital world but not at the c