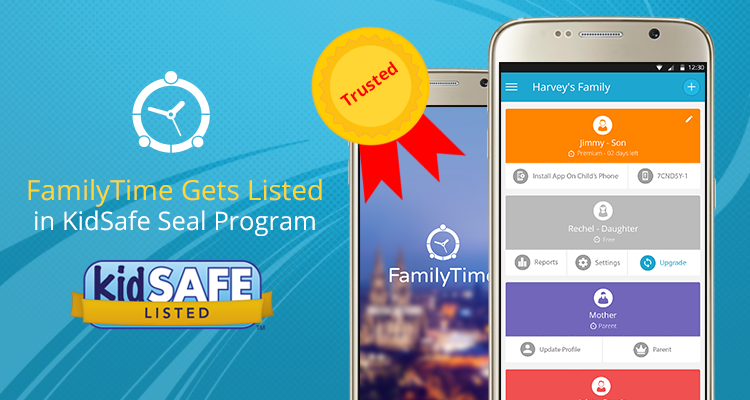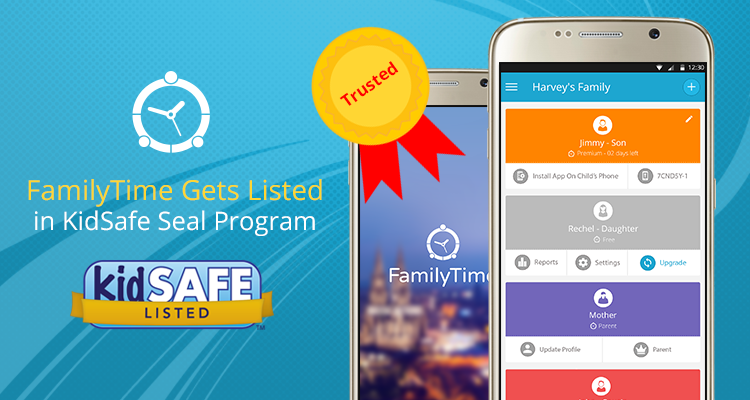 They say that winning someone's trust is not easy – it's true; you need to prove yourself and you need to work hard for that. FamilyTime's latest achievement of getting listed by KidSafe Seal Program is the first step in getting FamilyTime acquainted with the highest quality and security standards.
That's right! We're proud to announce that FamilyTime gets membership and listed in the KidSafe Seal Program which is an independent and the most prestigious safety certification service that reviews, certifies, and lists websites and mobile apps that are kids- friendly and meet certain the highest standards of online safety and privacy.
About KidSafe Seal Program
KidSafe Seal Program is a well-recognized certification service exclusively designed for kids-friendly websites, apps, games and other technology and only those distinguished apps are listed that meet their quality standards and safety parameters.
Shai Samet, an experienced and award-winning children's privacy consultant, advised by some of the world's leading Internet safety experts, founded the KidSafe Seal Program and his team makes sure that the apps and websites that are approved and certified can be trusted by parents and children and are safe to use.

Getting our KidSafe Listed Seal means that FamilyTime is safe to be used by parents and children. With our range of powerful monitoring features and advanced parental controls, parents can rely on FamilyTime for the best and effective digital parenting for their children without having to compromise on quality or their children's online privacy.
How FamilyTime Protects Privacy?
We, at FamilyTime, take every possible measure to ensure that our servers are 100% secure and impenetrable. All the data collected from your child's phone is saved on our secure servers and all the data is double-encrypted to make sure the data privacy is never breached.
With our power features like App blocker, Screen Time locks and Geo-fencing, parents can be 100% sure that their children's personal information stays safe and they use the Internet in a secure environment. They can also ascertain that their children do not visit dangerous or unsafe places and if they do, parents can get instant alerts with location details.
Also, FamilyTime goes one step ahead and offers separate applications for parents and children. Parents can use our app without having to share any of their mobile data or information while all the data collected from the child's mobile device is done with prior permission of parents. We believe in total transparency and therefore we employ extensive and well-explained Privacy Policy, Terms and Conditions and App Privacy Policy.
Now parents can rely on FamilyTime's trusted parental controls because we take privacy very seriously and strive to offer highly secure and kids-safe mobile technologies. With FamilyTime, you won't have to compromise on anything!