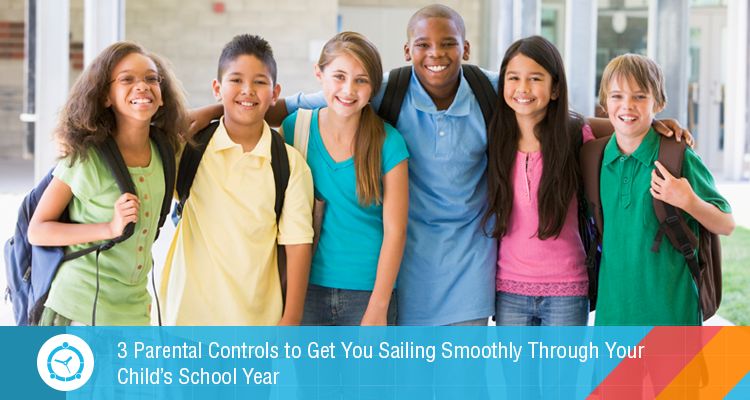 Alright, the school year has just started and you feel like you are on a roller-coaster ride. Slowly, it's drifting upward. The school year hasn't started fully and you have a few more days until the hectic routine starts, full-swing. You have a few days to prepare yourself for the back-to-back football practices, dance classes, language courses, birthday parties and what not.
Vow to Make it Easy!
This year onward, vow to make it easy! Vow to keep it easy on yourself. Clear out the clutter and keep yourself focused and mindful. But how do you do that? Simple, get yourself a smart parental controls app, FamilyTime and the rest is a breeze!
Sailing Smoothly through School Year
As your kids get back to school, there is one important thing you need to do: getting FamilyTime app. Yes, get it from Google Play or iTunes and install it on your child's Android or iOS device. As you get done with that, activate the child's app and that's an end to all your parental woes.
3 Parental Controls to Must-Try
School year is bound to be crazy and you can't blame yourself for forgetting a thing or two. But with FamilyTime's trusted parental controls, you can leave it all to us and focus on your work and having a great family time with your kids because we are there for you taking care of the bizarre.
Here are the three parental controls you need to try:
Screen Time Locks
There is no such thing as enough Internet for kids. They will binge-browse and can't help putting their smartphones even while they are in the loo! They are probably up all night because there is so much to gossip especially when they school starts and they need to catch up with their friends.
So, to tackle issues like too much screen time, you need to practice controlling their screen time digitally. With FamilyTime's Screen Time Locks you can:
Control excessive screen time.
Lock phone during Homework, Bed Time and Dinner Time.
Create your own rules to block phone during specific hours.
Relax rules during weekends and tighten them during exam season.
Adjust screen times for your kids depending on their age.
Screen Time Locks is a must-have feature when you need your children to learn that there is a time to work and play and when you make sure that mealtimes and family time are device-free. Screen Time Locks works wonders on iOS and Android devices:
Daily Limits
Now everything is fine as long as it is kept in the limits. So, if you want your kids to use their smartphones and iPads moderately, you need to put certain limits on app usage. You can do that easily with FamilyTime's Daily App Limits feature. This amazing feature lets you:
Define app usage limits.
Select apps you want to put limits on.
Automatically block apps after the limit is consumed for the day.
So, you can select the social media and gaming apps and put a daily limit on these. As soon as your kids exceed that daily limit, the apps are blocked for the rest of the day. This is an ingenious way to make sure that your kids don't get hooked on Instagram and learn to self-regulate their app usage.
Geo-Fence Places
This is one fine feature that can be used in so many ways that you'd love it instantly! Geo-fence Places is a geo-fencing feature that notifies you whenever your kids enter or leaves those places you entered in that list. If you are a working parent and leave for work before your kids go to school, you can know that your child reached school safely. No need to give them a call or text them, you will know instantly and it's so reassuring!
You can enter as many places and get instant check-in / check-out alerts for each place. If your children are going to their friend's place, you can know that they have reached the destination. You can even know if your kids are sneaking to that shady downtown bar that opened in your neighborhood because you have geo-fenced that place! Here's what you can do with the feature:
Enter places like school, home, gym, friend's place, etc. in the list.
Get check-in / check-out alerts as they enter or leave those places.
The feature works on Android and iOS devices:
Give these parental controls a shot and let us know how you liked these. It's fun when you can keep track of your kids' whereabouts and can keep their device usage controlled. This school year, experience the magic of digital parental controls here you no longer have to shout at them to put down their phones! Have fun!