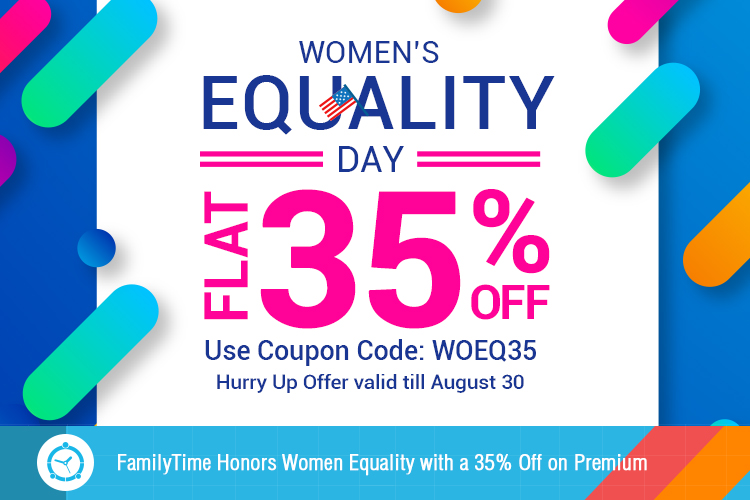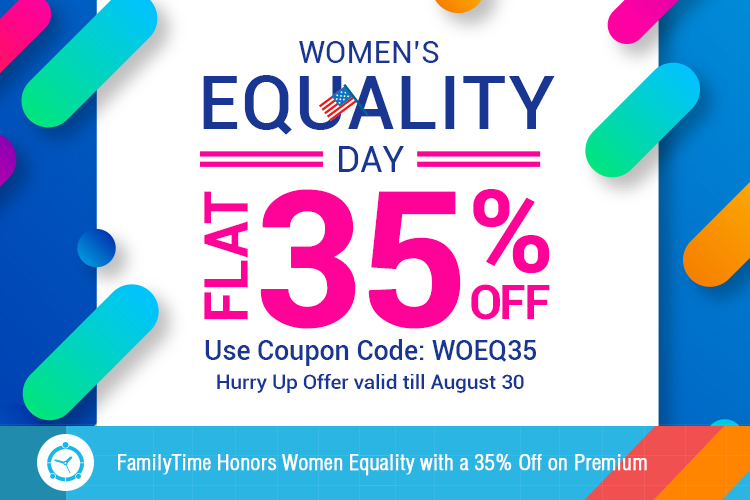 George Orwell's famous quote, "All animals are equal but some animals are more equal than others" get us all thinking about the concept of equality. It's true that gender equality is still a concept that doesn't sit well with many people.
At Familytime, we believe that all humans are equal and equally honor the spirit of womanhood. T's not easy being a woman especially when you have to take care of your family, spend quality time with your kids and still pursue a career. Then there are the single moms who are striving harder than others to bring food on the table for their children despite all odds. And last but not the least, stay-at-home moms who do everything just for their kids! Saluting all the women out there, we bring you a fantastic Women's Equality Day discount!
Honoring Women's Equality and Spirit
Women don't settle for less so here we are: offering a flat 35% off on FamilyTime Premium -a unique, all-in-one parental controls solution for working, stay-at-home and single moms so they can truly be there for their children any time; all the time!
Moms – Better Investigators than the FBI
Believe me, if a mom wants to find out, she's a better investigator than FBI so we want to empower moms with the best parental control and monitoring tool. Mommies, you don't have to be a Nancy Drew to know where your kids have been and if they are hiding something from you because you have FamilyTime's power-parental controls:
Location Tracking
Geo-fencing Places
Internet History Tracking
SMS monitoring
TeenSafe over-speeding alerts
Daily App Limits
Pick-Me-Up Alerts
Auto Check-in / Check-out Alerts
All you need to do is log on to your FamilyTime – Dashboard and all your children's online and offline activities are displayed in detailed reports.
So, make most out of this amazing offer and experience the real effortless parenting with FamilyTime's Women's Equality Day discount. After all, what's better than a flat 35% off on the mom's favorite parental controls app?!