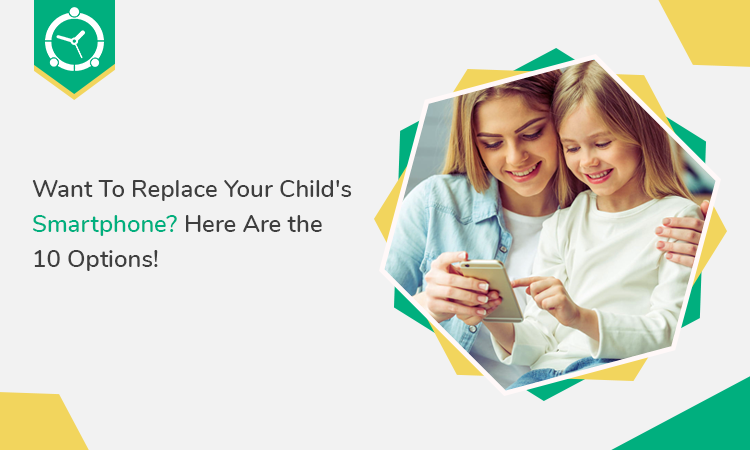 The addiction of digital devices among children and adults is increasing day by day! In the past years, we have seen people using tablets, smartphones, and laptops. There is no way that they are going to leave them because it is now a part of their life.
You must know that it is not just the adults but also the kids along with the teens who are addicted to devices. This has increased concern among the parents due to the increased screen time.
According to a study, 47% of the children are very much addicted to their smartphone. They are spending at least 5 hours on their digital devices and this has significantly reduced their sleep.
In the following blog, we are going to discuss the ten alternatives for smartphones along with the reason due to which your child doesn't need smartphones:
3 Reasons Your Child Don't Need Smartphones
Let's clear one thing, we are not against the use of technology by your child. We just want to ensure that your child is monitored well and there should be a limit for using the devices. There are many benefits for allowing your kids to use digital devices. They use the devices to search for the information they need to do their homework. They can access any kind of educational material they want. They can learn and will get a clear understanding of anything after watching videos.
Just like everything, there are some cons of using digital devices. Let's have a look:
Less Sleep: Parents should know that frequent use of smartphones or different digital devices will reduce the amount and quality of sleep. For your information, the screen of digital devices emits blue light that reduces the ability of the brain to produce melatonin, a sleep hormone.
When the exposure to blue light is more, then this will confuse our brain. The blue light will affect the quantity of sleep and this is going to affect the development and growth of children.
No Social Skills: We are using our devices for social networking. Smartphones distract a person from their surroundings. This makes them less conversational and will affect the development of essential social skills. Frequent use has also affected the child's ability to sense and understand the emotions that are important for better social skills.
Inappropriate Content: We all know that most of the kids have internet-enabled devices. This gives them full access to search for anything they want to know. The Internet has a wide range of content not suitable for the kids so if proper monitoring is not done, they will watch that content. Such content will include pornography, violent videos, gambling, hateful speech, and much more.
Alternative To Smartphones For Your Child
Below are some of the alternative that parents can get for their kids instead of smartphones:
1-Screenless Cell Phones
These are becoming popular as there is no distracting display on these devices. This gadget is an excellent way to stay in touch with the child and they don't have to look at the screen.
2-GPS Smartwatch
This is one of the perfect alternatives for your kids. This will act as the best way for parents to get in touch with their child when they are outside of a house. Due to the smartphone, parents can easily track the location of children. They can also contact them via messages and calls.
3-Kindle
Kindle still has a screen but this is a very different display in comparison to the screen of smartphones. With this, you can easily entertain your kids with a book and they can download them on their device.
4-iPod Shuffle or MP3 Player
Just like the majority of people, if your child also loves to listen to music, then buying an MP3 player or iPod shuffle is a good choice. You can load these devices with your child's favorite song and let them listen to music whenever they want for entertainment.
5-Craft Sets
There are different forms of craft sets. The primary idea behind this is to keep your child busy by allowing him or her to use different arts and crafts. Most importantly, this will help your child to bring out their creativity and explore their imagination.
6-Engraving Art
Sets of engraving art craft have become very popular. This provides your child with a feeling to bring out their creativity and sketch out different pictures to create something amazing.
7-Books
Parents might consider this old fashioned but encouraging your kids to read books will help them to improve their vocabulary. This will also increase their knowledge and enable them to use their imagination. Parents should find a book that will be liked by their children. It can be based on facts or fiction depending on the choice of your child.
8-Baking
Note that this thing might need your supervision. But this is definitely one of the best ways to keep your child entertained. Parents should encourage their kids to discover some of the best ideas for cakes and cookies. Work with them to bake it, this activity will be educational and fun at the same time.
9-Board Games
This can be a good alternative as this will be entertaining your kids without using any digital devices. Nowadays, children are more interested to play games on their devices but this can change the scenario. Board games are both educational and fun that will encourage children to have a better interaction. Furthermore, this will also improve their social skills.
10-Musical Instrument
A musical instrument can be a brilliant hobby for your kids that they can master. With this, they can entertain themselves for hours. Parents can give their child and musical instruments like a keyboard or guitar for learning a new skill.
Conclusion
Hopefully, now parents will be aware of all the possible alternatives that they can provide to their children instead of smartphones. The use of smartphones or other digital devices is not bad but it should be done in a limited way.
As a parent, if you are in search of the best parental control app to monitor and control the screen time of your child along with other activities, then FamilyTime is here to help you out! The app will provide your great features like app blocking, monitor text messages, limit screen time, SOS/Panic button, internet scheduling, and many more. Get the app today to know more about all the exciting features!