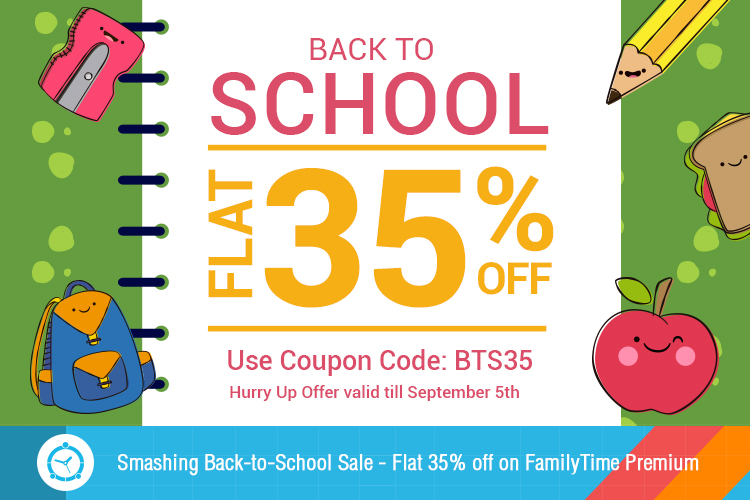 Finally the holidays are coming to end. To parents; it's a welcoming change – no more cranky and forever-bored children making mess at home! While some parents might dread the approaching call to follow strict routines, packing lunch boxes and wrestling with the kids to complete their homework. But in all this mess, FamilyTime brings you the sanest back-to-school sale: upgrade to FamilyTime Premium and get a flat 35% off!
How to Keep Your Sanity through the School Session
Whether you are working or a stay-at-home parent, sending kids to school does require extra nerves! Well, apart from packing lunch boxes, there are thousand other challenges – walking them to school, keeping a track if they have come back safely and so on. The biggest challenge is getting them to complete their homework and putting those God-forsaken phones aside for a minute! There will always be one last status to be updated and a final round of game to be played and you seem to lose it all! So how do you keep your sanity through all this? Here's how:
No Distracting Apps During School Hours
You can easily pick and choose which apps they can and cannot use during school hours. Block all distracting and social media apps during the school hours and you can finally have children focusing on their lectures!
How to Block Apps on Android Devices
How to Block Apps on iOS Devices
Make Homework Hours a No-Device Time
FamilyTime Premium lets you simply block their devices during homework hours. This is absolutely fool-proof and there won't be anyway they can bypass this curfew. Finally, you can relax!
How to Lock Screen Time on Android Devices
How to Lock Screen Time on iOS Devices
24/7 Tabs on Their Whereabouts
Where they are and when they will reach home is no more a burning question  hovering your mind while at work. Now you can keep track of their whereabouts any time. You can also put Geo-Fence Places alerts and know instantly as they reach school or home safely.
How to Use Geo-Fence Places on Android Devices
Never forget to Pick Them Up
Gone are the times when you have to make up to the angry child for being sinfully late in picking her/him up after a football practice or dance rehearsal. No matter how busy you are, your children can send you Pick-Me-Up Alerts as soon as they get done with school and you will get a notification with location details. Neat. eh?
Hurry Up, Bells are Ringing!
But hey, this too-good offer is a very limited time offer so you need to act fast. Click the button below and claim your 35% on FamilyTime Premium  right away and avail all these awesome parental controls to keep you sane through the school year. Good luck!