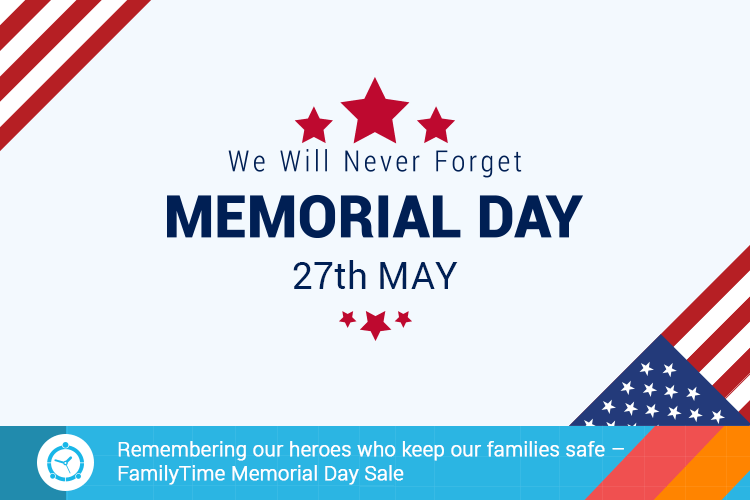 Memorial Day is a day to remember and pay respects to the heroes who spend their lives protecting us and keeping us safe from all the threats in the world. It's a day to teach your children about the values of our freedom and safety. On this very day, we tend to reflect on the responsibility bestowed upon us to protect our children and make sure they're always safe. That was always the idea behind FamilyTime, to give you a tool that helps protect your children, wherever they are.
Massive discount for Memorial Day
This year, we're paying our respects by giving parents a whopping 30% off on FamilyTime premium protection. You can get your hands on all the powerful control features. This includes the ability to set internet filters that stop your children from browsing bad content, app blocker to block any apps you don't want them using, screen time limit to lock their screen and allow usage only at permitted times, location tracking so you can see where they are at any time, and geofencing that allows you to get notifications whenever they enter or exit a prohibited location.
Ultimate control with ultimate monitoring
In addition to all the control features, FamilyTime also packs a powerful punch with monitoring features. This includes the ability to keep an eye on your children's call history, SMS, contact lists, internet browsing history, and location history.
All this is at a heavily discounted rate right now as the FamilyTime Memorial Day sale is our way of paying respects to our heroes. The offer only lasts for a limited time so make sure you get the deal while you still can.