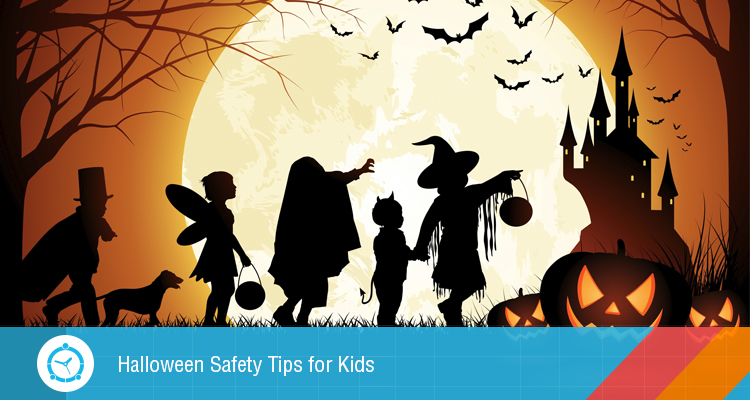 Holla parents! Are you ready for Halloween? Why am I even asking, I'm sure the kids have already talked enough about it! The dress they want to wear, how they want to decorate the house, where they want to go trick-or-treating! Halloween is fun and all the fuss and preparations actually turn out to be refreshing in the end.
Make Trick-or-Treating Safe!
As you prepare for the big scare, let me give you some tips for a safe Halloween so that you and your little ones only get the fun out of it and not an actual scare.
It doesn't matter what dress they want. Just make sure that dresses are the right size so they don't trip or fall. Don't use masks that obstruct vision. Use reflective tapes and hand them glow sticks for better visibility at night. Use fire resistant costumes and wigs.
Do a thorough cleaning of your front porches and sidewalks to avoid any tripping.
Don't let the tweens and little ones to use sharp objects for carving. They can draw and paint but the adults should do the carving part so that the kids don't cut themselves by accident.
The kids younger than 12 years should be accompanied by an adult or at least an adult teen.
It's best to stay in groups and avoid dark alleyways or unknown shortcuts.
Keep the trick-or-treating to the nearby neighborhoods. Follow their path with FamilyTime location tracking and get a report by the minute.
See how to track location on Android and iOS devices.
If you are afraid they might end up in a deserted area or a place that is notorious, you can Geofence those areas and get notified if your kids go to those places.
Get a refresher on how to set Geofence places.
Tell your kids to notify you if they sense any danger with the help of Panic button. If they get lost or forget their way, they can send you a location map with the pick-me-up alert.
Do a drill of the panic alert before Halloween.
Make this year's Halloween worthwhile, all the time ensuring the safety of your kids. FamilyTime has some awesome tricks of your own that you can pull to keep the kids safe from any danger. Let the kids have some fun and make sure you don't freak out as well. Follow these tips and let us know how it went.
Have a happy, happening Halloween!