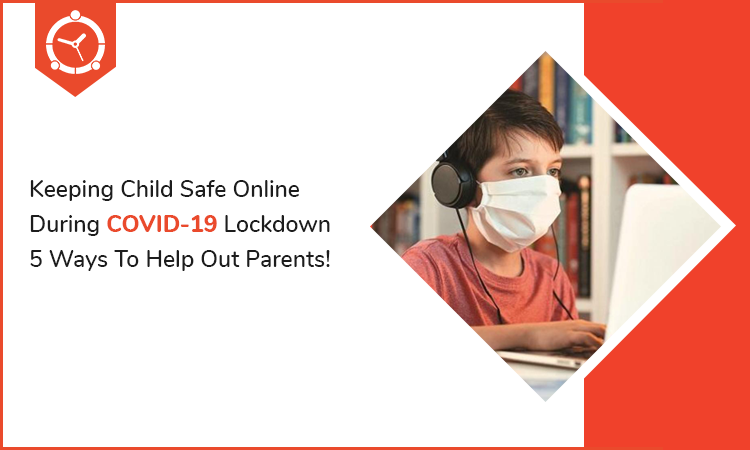 Just like others, your family will also be stuck inside the house. The lockdown imposed by the governments of different countries all over the world is to limit the spread of coronavirus. The number of deaths is increasing and to protect ourselves and others in society, we need to stay inside our houses.
Children and parents all are staying at home. Schools, colleges, and universities are closed and parents are working from home. The sudden shift in the routine is enabling us to pay attention to the things that were overlooked previously. One of the important things from the list is the online safety of our children. Previously, parents didn't have much time to look after their kid's online activities. But now as they are staying at home, they should keep an eye on their children and tell them about online safety.
There is no doubt that children love to spend a good amount of time on their digital devices like laptops, smartphones, tablets, and much more. They are using the devices for various purposes like studying, reading, watching videos, playing games, and much more. Technology has benefited us in various ways but the online world is vulnerable. Online safety is important and proper attention should be given to avoid the problems. Proper precautions should be taken especially in the case of children.
If you are wondering, how you can protect your kids from online threats, below are the five ways to try out:
1-Have an Open Communication With Your Kids
Kids deserve the time of their parents. It is important for the parents to sit and talk to their kids. This is helpful in creating a better relationship with your kids and they will trust you to share their things as well. An honest dialogue between parents and children can be a good way to talk on various topics.
Generally, parents are busy in their everyday life but now it is the perfect time to communicate with them and know what they have to say. Talk to them about their online activities to find out what kind of apps they are using, what they are doing online, and things like that. It is important to provide proper information about cyberbullying, sexting, and other online threats to your child. You should ask them first about these things to have an idea about their knowledge. If you think that they need guidance, then you have to guide them and tell them to inform you if they have any problem.
2-Protect Your Child with Technology
Everything has its own pros and cons, the same goes for technology. Instead of focusing on the negative aspects of technology, we need to use it in the right way for our protection. A parent can use technology to ensure their kid's online safety.
Wondering how? Parents need to install the latest version of antivirus software on their devices. The privacy settings should be turned on and the webcams should be covered well when not in use. If you have young children, using a parental control app will be a good way to monitor your child's online activity. You also need to ensure that the privacy setting should minimize the data collection. Guide your kids to keep their personal information private.
3-Encourage Your Child For Healthy Online Habits
Healthy online habits are also important for your kids. Parents should monitor their child's behavior online. A child needs to behave well with their friends online when talking on video calls or taking online classes. Children should follow some rules when they are taking online classes. They should wear a proper dress and they should not join video calls from their bedroom.
Your child is spending much of his time online, so you need to guide him about the promotion of unhealthy foods, age in-appropriate material, and gender stereotypes. This is very important for your child to recognize the ads or videos that are providing negative messages.
4- Allow Your Kids to Express and Have Fun
By staying inside a house for a long, the kids will get bored easily. As they are staying inside, provide them the opportunity to use their voices online and let them share their views. But all this needs to be monitored well so that they don't have to face any problem.
Allow your kids to get benefits of digital tools that will help them keep moving like the online exercise videos for kids and video games that need physical movement. A balance between our online and offline activities is important for better physical and mental health. But time should be set for all these activities.
5-Spend Time with Them Online
It is essential for parents to create an opportunity for your child to have a safe interaction with you, family, and friends online. Connection with others is also very important and especially when you are locked inside the house social interaction is one of the ways to keep yourself busy.
Parents should spend some time with their kids online to tell them about different things online. They should tell them about the misinformation and age-inappropriate content that might increase anxiety in a child regarding COVID-19 or any other topic. Furthermore, it also guides them to identify the games, apps, and videos appropriate for them depending on their age.
It's Up To You!
Hopefully, now you are aware of the five ways that can help you keep your child safe online during COVID-19 lockdown. Proper monitoring and guidance by parents are the keys to win in this situation.
The use of technology can help parents in various ways as mentioned. To monitor your child's online activities, you can get the parental control app like FamilyTime for your kids. The app provides you great features like app blocking, internet scheduling, location history, call history, app usage reports, and much more to keep an eye on child's activities on their devices. The app is specially designed for parents to look after their kids when using their devices and even when outside the house to keep them safe.