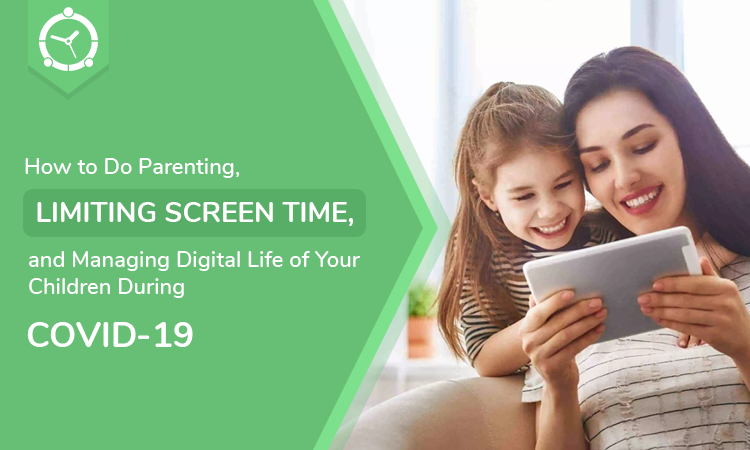 COVID-19 has changed the way we used to live one or two months before. People are locked down in their houses. Parents and children are staying home because school and office are closed. Due to this, there are things that need to be looked at during this situation.
We are living in a very different situation as we are not allowed to go due to safety reasons. The entire world is almost shut down and this puts pressure on the families to stay insides. As schools are closed, children don't have to do much at home. The easy solution for them will be using their electronic devices like smartphones, iPad, tablets, and other things to stay busy. This will increase the screen time and it is not good in terms of health for your kid.
Keeping this situation in mind, most people have to find out the ways in which they can work from home and can limit the screen time as well. The routine and the way you used to live have to be changed in the current situation.
Wondering, how you can do it? Below are the tips that can help you to change the way of parenting, limiting your child's screen time, and managing their digital wellbeing in a proper way:
1-Change your Expectations
According to a study, there is a rise in screen time around the globe after the outbreak. There is a 100% rise in online activity across countries like Italy, France, Spain, and a 95% rise in the US. The primary factor behind the rise is that the cities are locked down and people are staying at their home.
As children are at home, they will be busy using their electronic devices. But parents need to stop this. It will be good for the parents to change their expectations because the routine is not going to be the same. You can do your own work and have to look after your kids as well. For this, you need to divide your activities on an entire day and focus on a particular activity you have to do at a certain time. Don't forget to add a time to play with your kid and set time for them to use their electronic devices.
2-Get Guidance from Homeschooling Experts
Parents can get guidance from different homeschooling approaches according to their ease. The way of teaching can be traditional or classical. According to the homeschooling experts, parents should not try to replicate the classroom environment in the home. Don't expect your children to concentrate all day.
The recommended time to engage your children in the study should be 4 to 5 hours for older children and 2 hours for younger children. Online classes can help your kids in various ways. It will let them connect with nature, encourage them to do physical activity and think about offline creativity. Try to listen to your kid and let him do the work he likes to do.
3-Set Up A Schedule and Follow It!
As you and your child are staying at home, it will be best for you to schedule things by creating a timetable. There should be a time for everything including mealtime, activity time, playtime, and using mobile devices for entertainment. Ensure that you should follow the routine strictly. If there will be no strict action, then your child might get addicted to using the mobile devices.
4-Talk with Your Children
No parents can deny the fact that they are busy in their normal routine. They don't have much time to talk to their child and know about their desire. But now parents have a good chance and a good amount of time to interact with their child. Parents should sit with them, talk to them, try to understand their point of view, and play with them.
5-Guide Them About the Use of Digital Devices
Children are using digital devices and you don't have the time to stop them or educate them in the right way. But now you have the time to teach them. For this, you need to sit with your kid and check what he likes to search on the internet. After you get the details, you should tell them the drawbacks of excessively using electronic devices for long. Tell them about the health problems they might face if they are not using electronic devices for a long time.
6-Parents Should Be the Role Model for their Children
As discussed, you should keep a check on the screen time of your children. The same rule applies to the parents as well. They should be role models for their children and should use their devices for less time. If parents will be following the rules set by them, then children will also follow them. In this way, they can control the screen time and can create a balance in their digital life.
Most importantly parents should always be there for their children. According to the studies, the children who are more attached to their parents can behave well in anxiety as compared to those who are not close to their parents. So, it is best to talk to your kids and give importance to their feelings as well. It is the duty of parents to love their kids as much as they can because they deserve their attention and love.
Conclusion
These were the helpful tips that parents should keep in their minds as they are staying at home to monitor the screen time of their child, manage their digital life, and do better as a parent.
Worried about the monitoring of your children's screen time? FamilyTime Premium can help you with this problem. With the app, parents can easily set the daily usage limits for the apps. Once the time is over, then the apps will be locked and children will not be able to use it. Parents can also set the custom rules according to their desire. In this way, you can easily limit their screen time. You can enjoy this feature for Android and iOS devices. The app also provides other features like app blocking, location tracking, check-in, and check-out alerts, internet filtering, browser history, and much more. Download the app now.
Stay Safe and Stay at Home!