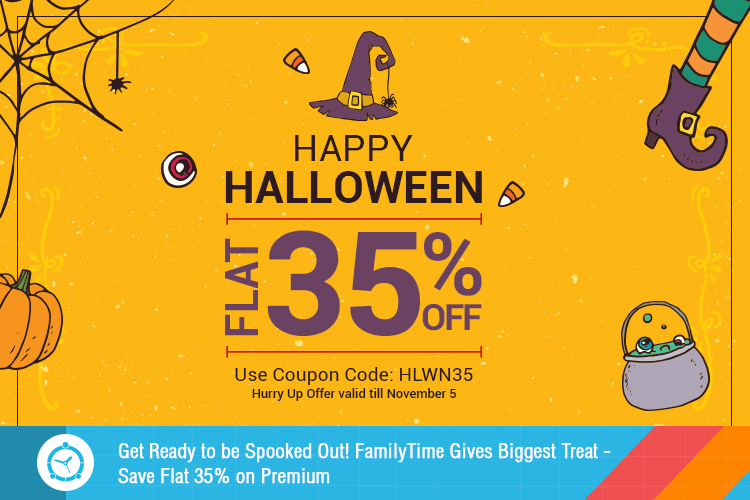 So, who are waiting for some Halloween candy? We all are but we parents have something else on our minds, too. When kids head out with friends for trick-or-treating on their own, we cannot help getting concerned about their safety. What if they wander down a bit too far to that shady downtown? Well, you are right to get worried about your child safety, FamilyTime has got your back. Now you can say goodbye to all your parental worries for good and let them have some good time.
An Offer Truly 'Spooktacular'!
FamilyTime has all treats for your this Halloween- get our Premium parental controls at a whopping 35% off and enjoy the real magic of digital parenting.
If you are having thoughts of escorting your kids and teens to trick-or-treating, give up on them already because FamilyTime has got the perfect parental controls that will keep you connected with your kids and teens all the time. Let your kids go ahead and have a good time while you relax because FamilyTime lets you:
Keep tabs on their whereabouts all the time
Put certain unsafe places to the Geo-fenced Places and get alerts as they enter or leave those areas
get a notification as your teens drive faster than the safe speed limit
Block apps and games that can tempt your kids to do dangerous and risky things
Get SOS alerts if they land in some trouble
It is All in the Deal!
Starting this Halloween, lay down all your parental worries and concerns and experience the powerful parental controls. FamilyTime comes loaded with dozens of advanced monitoring features that are sure to make your parenting far more comfortable and efficient. Don't miss the chance and save flat 35%! However, hurry up, the offer is for a limited period! Happy Halloween, guys!