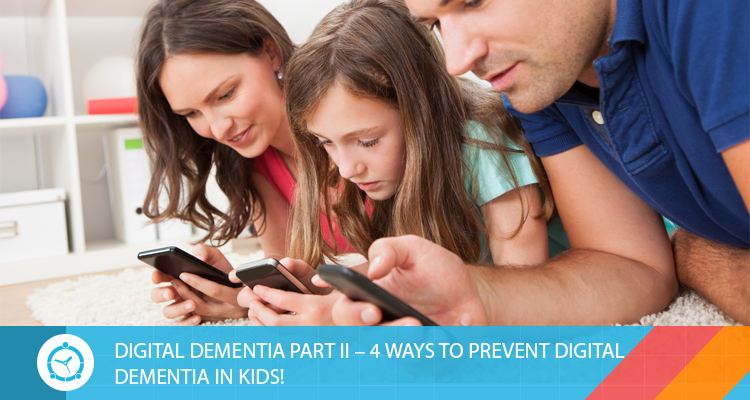 In our last post we talked about digital dementia in detail and today, we are going to discuss 4 ways to prevent digital dementia in kids. Have a look!
According to experts,  the new technologies diminish the cognitive performance and memory of people who misuse them. In addition, they emphasize that our brain functions in a certain sense like a muscle: if it is used, it grows and if it is not used, it atrophies. That is why stimulating and exercising our mind is so important.
How to prevent digital dementia?
We live in a hyperconnected world. It is increasingly normal to find young children with mobile phones and tablets to search Google for any term or doubt we have without first making any effort to reflect on it. Hence, digital dementia is increasing. Now, what can we do about it?
1.      Set a schedule
Set a specific time to use the mobile. If they need it to work, ask them to respect their rest period (which is also very necessary) and try to manage all their tasks. For that, parents are encouraged to make use of screen time limit apps such as FamilyTime that enables parents to formulate screen schedules for their kids and implement them effectively without any fail as the app offers auto screen loc scheduler and several other valuable features.
2.      Find a substitute hobby
Help them learn to play an instrument, sign up for English classes or go to the gym. Find a healthy pastime that makes them forget their dependence on the digital world. If you can, help them develop a hobby that forces them to think and analyze. No use of computer brain training games! Ask them to focus on the real world and exercises they can do with a pencil and paper. You can also gather a group of friends or family and spend a fun evening with them.
3.      Make plans outside the home
Make them go outside and enjoy nature. It does not matter if it's cold or raining: every season has something wonderful. Although you live in the city, there are certainly thousands of parks to be outdoors. It will be good for your lungs, but especially for your mind. Although at first they may not feel like it, but help them repeat this routine every day. Little by little their body and your brain will get used to it and they will want to have their daily little time in the sun or a few minutes in the rain.
4.      Oblígate them to think
The next time they want to opt for the easy way, make them slow down and ask how would they have done it in the time when there was no internet. This way they will realize that there are many alternatives that do not have a technological device in between.
Digital dementia is a scourge that increasingly affects more people. Fighting it is easy, but you have to do your part. Anyone you ask will tell you that after a hard day at work all he wants is to lie on the couch and start playing with his cell phone or watching a movie. The use of new technologies routinely can become very dangerous. So make use of the tips given above and prevent digital dementia in kids effectively!