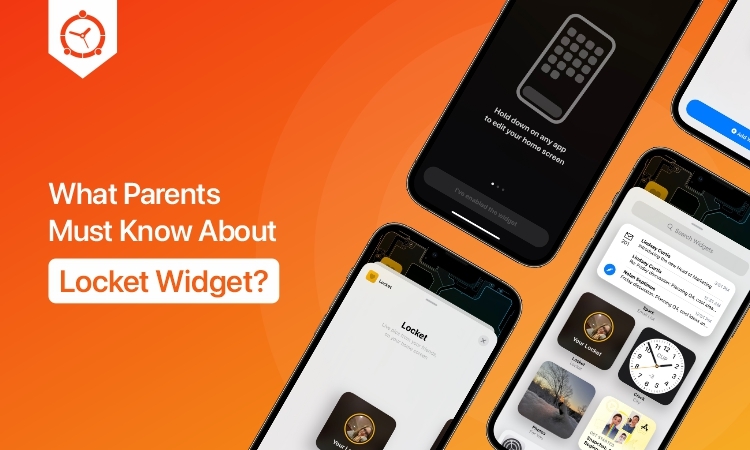 Every few days, we hear about a new app, a widget, or a trend reaching sky-high popularity among the young generation. Hopping from one trend to another has become the new norm for kids, teens, and tweens. So, it isn't surprising to hear that Locket Widget is the talk of the town these days.
But many adults are scratching their heads thinking about it. "What on earth is this app, and should kids use it?" If you are one of those people, stick around because your questions are about to be answered.
What Is Locket Widget?
Locket Widget is a photo-sharing widget initially released for iPhone users at the beginning of 2022. However, it took over social media (primarily through TikTok) and went viral. The hashtag #locketwidget raked in over 20 million views on TikTok. Witnessing its peaking popularity, its developer, Matthew Moss, decided to launch it for Android users too. Let's see how it works and whether it is safer for kids to use it.
How Does It Work?
Locket Widget enables users to instantly send photos to up to five closest friends or family members who also use this widget. Users can send or receive pictures on their home screen directly.
The good news about this app is that it only allows five members with whom one can share their pictures, unlike countless other social media platforms (e.g., Snapchat or Instagram) that open doors to millions of users and strip off your privacy. 
People cannot communicate with each other on this app if they don't have the other person's number in their list of contacts. However, it doesn't mean that Locket is flawless. It still poses various threats to young kids and users.
Risks Posed by Locket Widget 
Although Locket Widget offers intimacy and privacy by allowing only contacts to share photos, it still is not risk-free. Here are a few significant threats posed by this app.
Apparently, it offers no parental controls whatsoever. Unless you decide to become helicopter parents and pry into your kids' phones directly, it is impossible to keep track of what photos they are sending or receiving or who they are talking to on this app.
Even though the app's terms of service state that users must be 13 years or older to use it and kids under 18 must get parental consent, it does nothing to verify users' ages during sign-up. That means anyone with a phone number can use it. They only need three pieces of information, a cell number, a first name, and the last name.
The app requires permission to access contacts to work. However, the app claims it does not save users' contact lists in its database. It syncs with your phone's contacts and allows you to invite your friends. Once that is done, users can share pictures on the app, and people in your contacts will be able to see your photos on their home screens.
Claims Ownership Over All Shared Photos
This one is the most significant safety risk Locket Widget poses to all its users, be it kids, teens, or adults. Its terms of service state the following.
"For all content users submit to the Services, you grant Locket and our affiliates a worldwide, royalty-free, sub-licensable, and transferable license to host, store, cache, use, display, reproduce, modify, adapt, edit, publish, analyze, transmit, and distribute that content."
In other words, whatever photos users share become the property of the app, and the company can use the pictures however they deem fit.
Imagine your kids' photos plastered all over the internet getting misused. Think about it for a minute. Let it sink in. As there is no shortage of threats in the modern world, it becomes necessary for parents to look into ways to ensure their kids' digital safety using parental control apps, such as FamilyTime.
FamilyTime – The Ultimate Solution to Modern-age Parenting Issues
FamilyTime is a dynamic application that offers innovative ways to keep kids safe online. It appeals to the parental community due to its compatibility, easy-to-use design, affordability, and extensive features. For instance, parents can use its Call & Text Monitoring, TikTok Monitoring, App Blocker, and Screen Time Limit feature to ensure kids prioritize their digital safety while having fun with friends.

Explore more of its amazing features, avail its free 3-day trial, or sign up and make parenting easier in the multi-device world.